Harbor Happenings: It's time to get outside again
With warm, sunny weather in the forecast (at last!) outdoor activities are ramping up.
PenMet Parks hosts a Beach Bonfire Bonanza for teens ages 12-18 from 7:30 to 9:30 p.m. on Friday, April 28, at Sunrise Beach Park. The event includes games and sports before socializing and roasting marshmallows by the fire pit. Sunrise Beach Park is located at 10015 Sunrise Beach Dr. Registration is required.
Pierce County Master Gardeners will lead a hands-on class on container gardening at 10 a.m. Saturday, April 29, at Sehmel Homestead Park. Learn how to plant and grow flowers, herbs and vegetables in containers on you deck or patio — or even in your garden. The class is free and registration is not required. Sehmel is at 10123 78th Avenue NW.
The city of Gig Harbor and Kitsap Master Gardeners host a free virtual workshop on Natural Yard Care at 10 a.m. Saturday. The focus is on how to have a healthy yard and garden using less water and fewer chemicals. Free. Register here.
Mama Mia!
The Gig Harbor High School Drama Club presents "Mamma Mia!" starting Friday, April 27.
With music by ABBA, the play tells the hilarious story of a young woman's search for her birth father. It's a sunny, funny tale of a mother, a daughter and three possible dads and a trip down the aisle you'll never forget.
Performances are at 7 p.m. Friday, April 27, and 2 and 7 p.m. Saturday, April 28; and at 7 p.m. Friday, May 5, and 2 and 7 p.m. Saturday, May 6. Tickets cost $18 and are available at purplepass.com. Tickets sold at the door will be cash-only.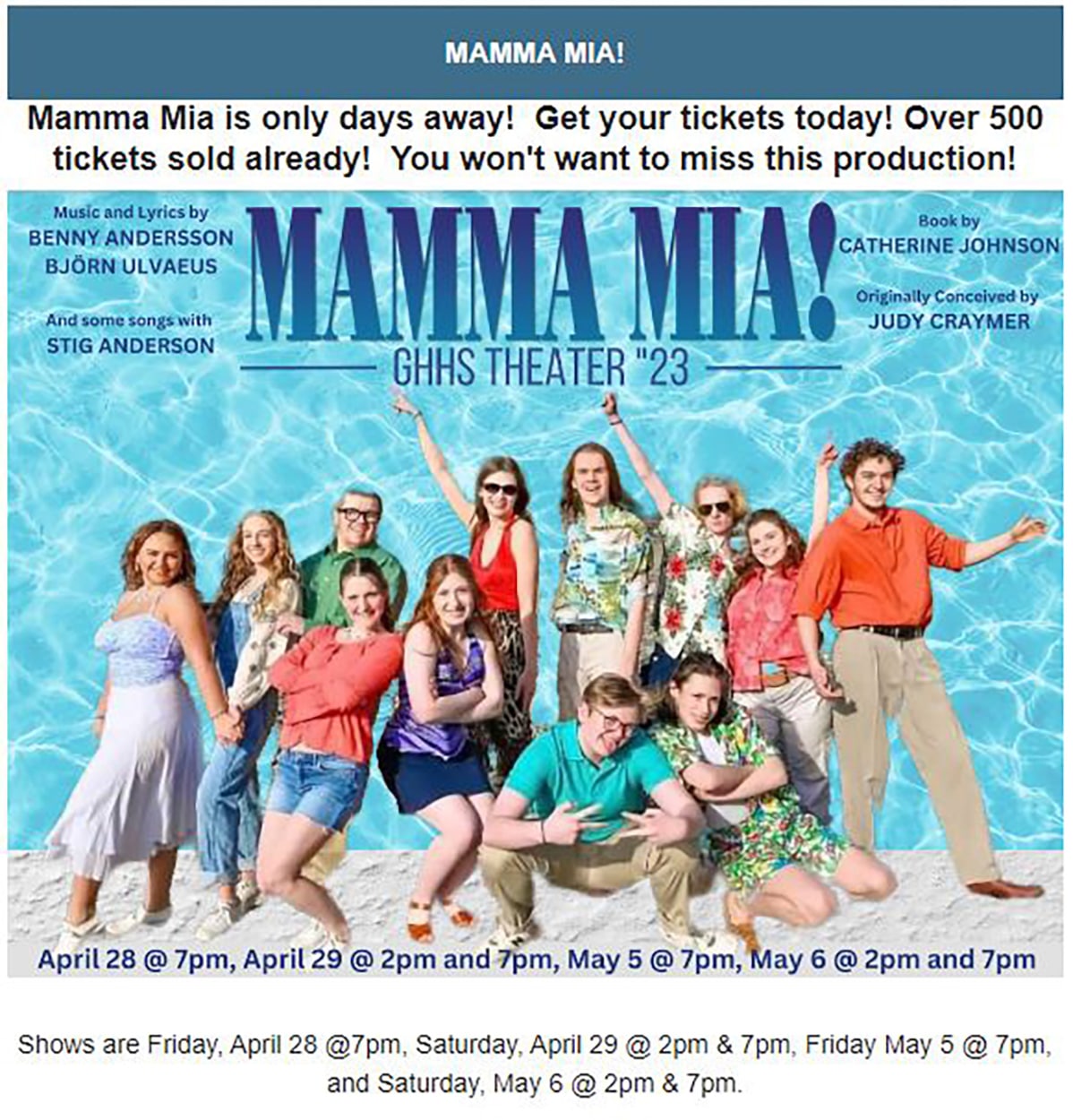 More music and drama
Ted Pickett brings his Neil Diamond tribute to Olalla Winery at 6:30 p.m. Friday, April 28. He'll throw in some Irish tunes, old cowboy standards, occasional modern pop song and a few originals. Click here for reservations.
The Nichols Community Center on Fox Island hosts That Irish Guy from Omagh, County Tyrone, Ireland, at 7 p.m. April 28. The performance includes an eclectic musical repertoire. Make reservations here.
At the movies
The Met Opera's production of "Champion" plays on the big screen at Galaxy Theatre in the Uptown shopping complex at 9:55 a.m. April 29 and 1 and 6 p.m. May 3. "Champion" is Terence Blanchard's story of the young boxer Emile Griffith, who rises from obscurity to become a world champ.
Flashback Cinema at Galaxy for Wednesday, April 26, is Mel Brooks' classic "Blazing Saddles" starring Gene Wilder and Cleavon Little. Showtimes are 12:45 and 6 p.m. Wednesday. On Sunday, April 30, it's "Raiders of the Lost Ark" screening at 12:15 and 6 p.m. Flashback movies are just $5. 
Miscellaneous
Two Loons Winery, 9422 22nd Avenue NW, hosts a wine tasting from 3 to 5 p.m. Sunday, April 30. This month's lineup: 2022 Roussanne – "preview" (not bottled yet); NV Cabernet Sauvignon; 2017 The Other Syrah; 2017 Loon Labs Petit Verdot.
Harbor Literary Society meets at 6 p.m. May 2 for a discussion of "Parable of the Sower," Octavia Butler's 1993 story of a dystopian California impacted by climate change in the year 2024. The event is free and takes place at the Harbor History Museum, 4121 Harborview Drive.
The Olalla Bay Landing hosts a variety of interest groups every week including spinning, from noon to 2 p.m. Tuesdays; sewing, from noon to 3 p.m. Wednesdays; and once-a-month Bunco, meeting next from 5 to 8 p.m. April 27.