Harbor Happenings: Winter Make Music Day
Even as other holiday events are winding down, musicians all across the land are tuning up to celebrate the winter solstice with Make Music Day.
In Gig Harbor, Make Music Day is Wednesday, Dec. 21, in Uptown. It includes all-join-in activities at the Pavilion and live bands performing in two restaurants.
Drop by the Pavilion from 1 to 4 p.m. and grab a pizza-box drum for the parade along the Riverdance sculpture walkway. Learn to play a steel drum. Take a turn on a guitar, keyboard or bass or shake a percussion instrument.
Local bands will play all afternoon and into the evening at Lele restaurant and Fondi Pizza. Click here for a complete line-up.
The local celebration is part of the nationwide Make Music Winter, happening in 35 cities. The winter event began in 2011 as the counterpart of the summer solstice Make Music Day, which turns audiences into music makers and proves that music can pop up anywhere.
All Make Music Day activities are free, ADA accessible and open to everyone.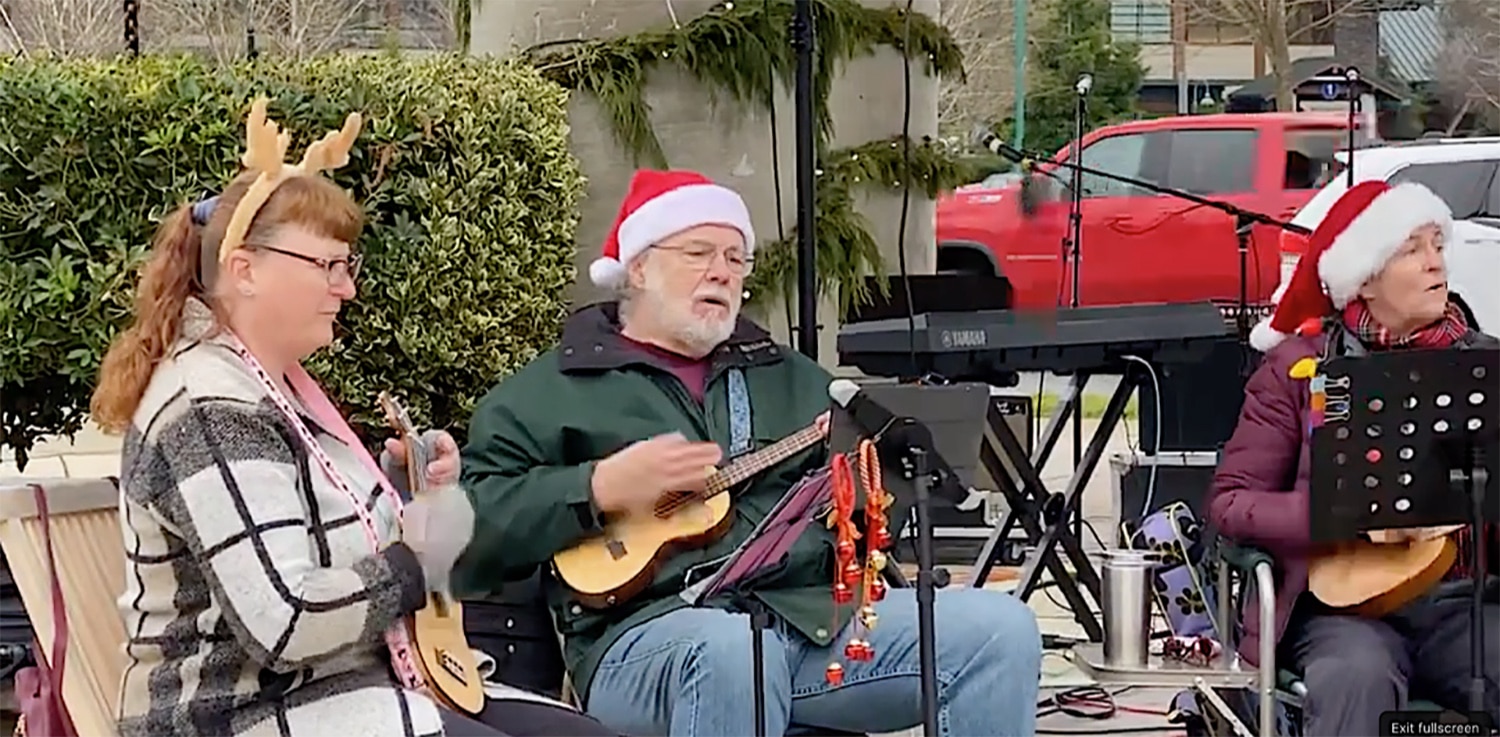 Celebrating Trees and the local watershed
The KGI Watershed Council (the acronym stands for Key Peninsula-Gig Harbor-Islands) wraps up 2022 with a "Celebrating Trees" party from 3:30 to 4:45 p.m. Wednesday, Dec. 21, at the Gig Harbor Library, 4424 Point Fosdick Dr. The tree-themed fun is a free, family friendly way to learn about the Watershed Council's work to protect the water quality and environmental health of the local watershed.
Holiday movies
This week's Flashback Cinema at Galaxy Theatre features "National Lampoon's Christmas Vacation." Showtimes are noon and 6 p.m. Wednesday, Dec. 21. Tickets cost $5.
Santa pays a visit to the Galaxy for photos from 4 to 8 p.m. Thursday, Dec. 22, and noon to 8 p.m. Friday, Dec. 23.
Beach monitoring
Intrepid beach-watchers can join Harbor WildWatch for special nighttime access to several nearby beaches.
Volunteers help Harbor WildWatch gather data at 11 different beaches around the area. Harbor WildWatch uses that information to track how the beaches change over time.
This week's beach monitoring work takes place at 7:30 p.m. Wednesday, Dec. 21, at Kopachuck State Park (a state parks Discovery Pass is required); 8 p.m. Thursday, Dec. 22, at DeMolay Sandspit Park on Fox Island; 8:15 p.m. Friday, Dec. 23, at Sunrise Beach Park; and 11 p.m. Monday, Dec. 26, at Narrows Beach Park.
Come dressed for any weather. RSVP to [email protected] or sign up here.
Coming Up
Music returns to the BoatShop with a concert by singer-songwriter John Nilssen from 5 to 7 p.m. Jan. 7. Click here for information.
Take a peek at what's going on beneath the surface of Gig Harbor Bay in the New Year's first Pier Into the Night, at 5 p.m. Jan. 7 at Jerisich Dock.