Harbor Happenings: Winterfest benefits Peninsula High students
The holiday spirit is on display all over town this week.
Thanksgiving weekend means Winterfest at Peninsula High School. More than 130 artists and crafters will show and sell their work  Saturday and Sunday. For sale will be everything from doll clothes to wooden maps to spices and sauces to jewelry to art made from glass and metal.
S.A.V.E. Thrift Store will sell holiday items in the school library. Hand-decorated wreathes — each embellished by members of student clubs and sports teams — line the hallway.
Thrift store sales benefit scholarships for PHS seniors, and the wreaths will be sold in a silent auction to raise funds for student activities.
Students decorated 17 wreaths. The auction will go live on the school's Facebook page at 9 a.m. Saturday, Nov. 26. Bidding will close at 4 p.m. that same day.
Winterfest runs from 9 a.m. to 5 p.m. Saturday and 11 a.m. to 4 p.m. Sunday. Admission costs $5.
This week
The Gig Harbor Concert Band performs "As American as Apple Pie" – a free concert-plus-pie-sale — at 6:30 p.m. Tuesday, Nov. 22, at Gig Harbor High School. Music and pie sales take place in the school commons.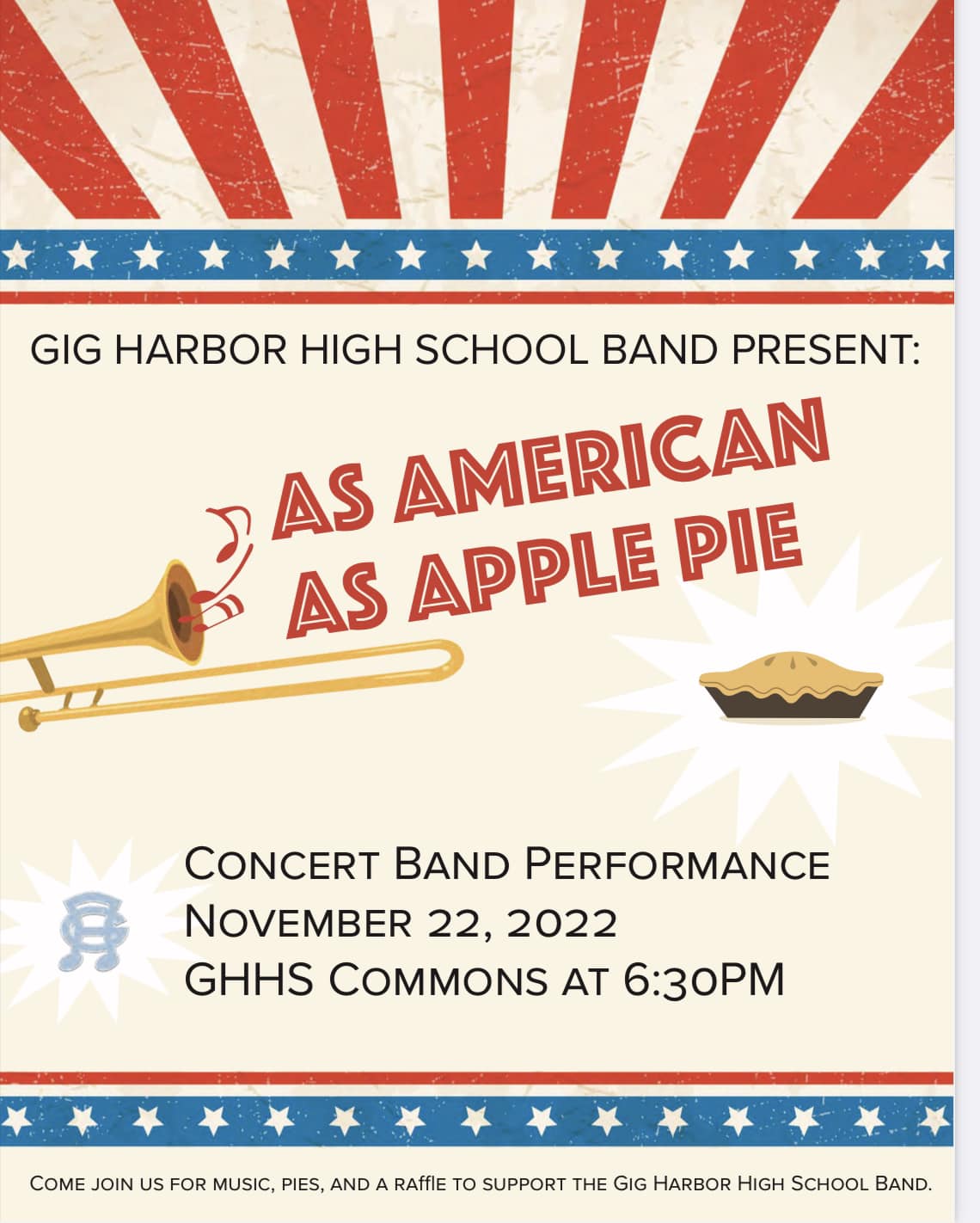 The Basket Brigade has been putting together 1,500 Thanksgiving dinners that volunteers will deliver Wednesday and Thursday to families in need. To help deliver baskets, sign up here.
This week's Flashback Cinema movies at the Galaxy Theatres are "The Polar Express" at noon and 6 p.m. Wednesday and "White Christmas" at 11:30 a.m. and 6 p.m. Sunday. Tickets cost $5.
The 20th annual Turkey Trot 5K fun run starts on Judson Street at 8 a.m. Thanksgiving morning. The run continues on a course through downtown and beyond. Proceeds benefit FISH food bank and Food Backpacks 4Kids. Find out more here.
Shop and dine along the waterfront and support locally owned businesses on Plaid Friday, Nov. 25 and Small Business Saturday, Nov. 26. It's a fun, grassroots alternative to Black Friday at the big box stores. Both events are sponsored by the Downtown Waterfront Alliance.
Next week
The Gig Harbor Film Festival's Monthly Movie for November is "Hallelujah: Leonard Cohen – a Journey, a Song," playing on Nov. 28, 6:30 p.m. The feature-length documentary weaves together three creative strands of Cohen's anthemic composition: The songwriter and his times, the song's dramatic journey from record label reject to chart-topping hit and moving testimonies from major recording artists for whom "Hallelujah" has become a personal touchstone. Buy tickets here.
The library's Teen Book Club meets from 4:30 to 5:30 p.m. Tuesday, Nov. 29 with a "Monsters Within" theme. This is a choose-your-own-adventure style book club where teens choose a book, e-book or audiobook that fits the theme.
The library system's Virtual Meditation practice group meets online from 6 to 7 p.m. Wednesday, Nov. 30. The group is geared to adults and seniors, to both new and experienced meditators. Sessions are free. Learn more here.
Ongoing
Tacoma Community College's fall art exhibit — "Everyone Always Wants to Find Words" — featuring work by artist Yuka Petz continues through Dec. 9 in the gallery on the Gig Harbor campus at 3993 Hunt St.
The Gig Harbor Lions Club's citywide Giving Tree is taking place through thru Dec. 11, collecting gifts for FISH food bank, the Boys & Girls Club at Evergreen Elementary School and Children's Home Society on the Key Peninsula. Last year more than 2,600 donated gifts helped many local children have a special Christmas season.
Harbor History Museum's special exhibition of hand-tinted slides created by photographer Edward Curtis opened last week and continues through Feb. 4, 2023. The exhibition, called "Tinted Light: Edward Curtis's Picture Opera," features the slides Curtis created to promote his life work. Curtis was a Seattle-based photographer best known for his striking portraits of indigenous peoples. The museum is open from 10 a.m. to 5 p.m. Wednesday through Saturday at 4121 Harborview Dr. Admission is free.
In December
Tacoma Community College-Gig Harbor is hosting a free job fair sponsored by WorkSource on Dec. 2. Representatives from more than 20 companies will be on hand to talk about the many different kinds of jobs they have available. Bring your résumé. Register here.
Multiple events take place on Dec. 3: The Eagles Club is holding its holiday bazaar from 9 a.m. to 4 p.m. and the Beer Vault in Purdy is hosting a Holiday Night Market from 4 to 8 p.m.
Tidefest returns to Gig Harbor High School Dec. 3 and 4, and the city's Christmas tree will be lit in Skansie Park on Saturday, Dec. 3.