Harbor Happenings: First Spring Market is Saturday at Civic Center
More than 50 vendors will set up shop on the civic center green for the first Local Makers Spring Market on Saturday, May 13.
It's no coincidence that the event is scheduled for the day before Mother's Day. Vendors from the Gig Harbor Local Makers group will sell handmade jewelry, soaps and lotions, candles, cookies and other items to make mom feel like queen for a day.
Also planned are "pampering workshops," food vendors, a make-it-yourself area, music and even a "mini-makers" space filled with items made by kids.
The Local Makers are a group of home-based small businesses, artisans and crafters that stage markets at various locations in the area, mostly during the summer months. The Spring Market idea came together after Harbor General Store, which hosted many of the Makers Markets, closed in March.
The market runs from 10 a.m. to 3 p.m. Saturday, May 13. The civic center is located at 3510 Grandview Street.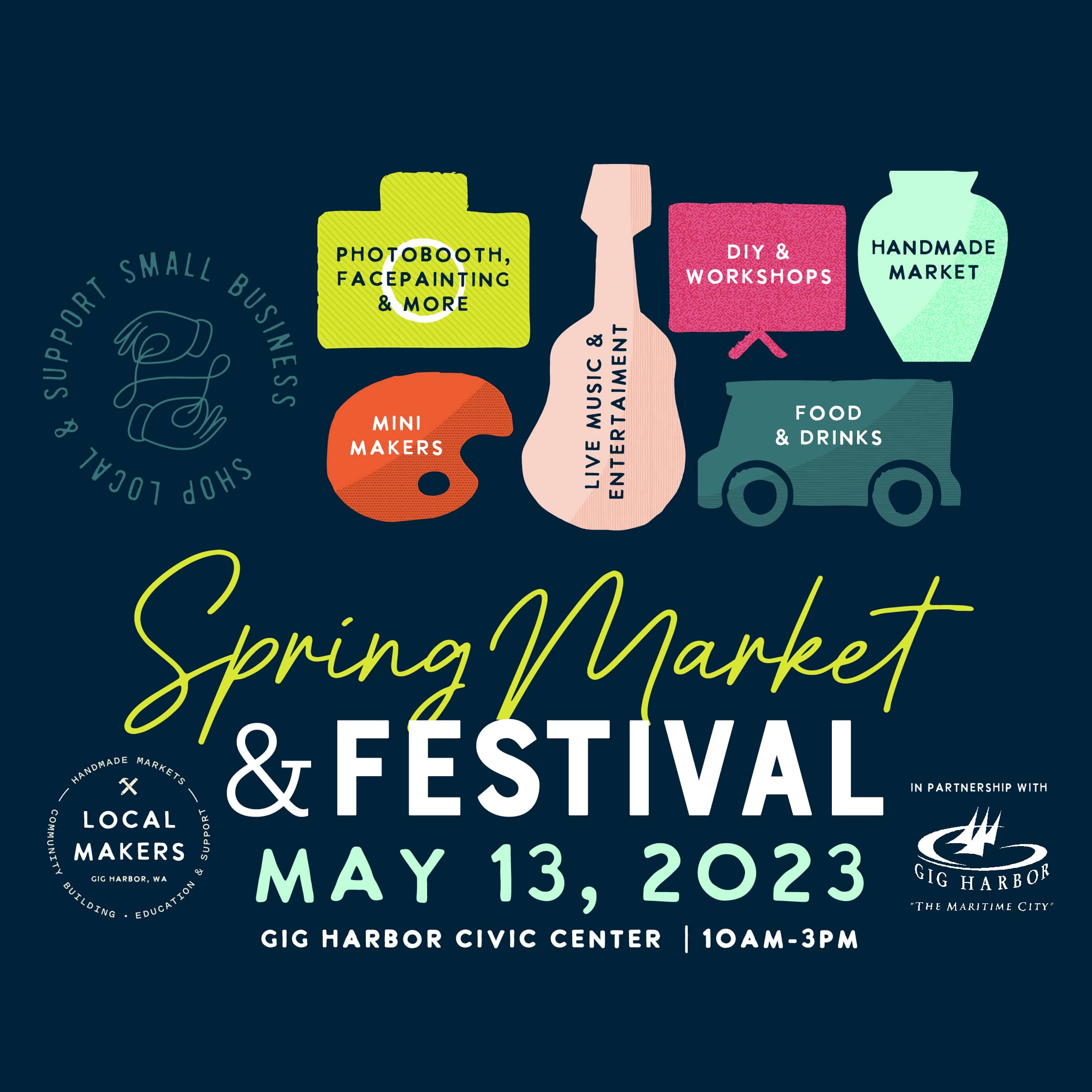 Also Saturday
Also on Saturday, the Key Peninsula Livable Community Fair returns to the Key Peninsula Civic Center in Vaughn from 10 a.m. to 3 p.m. Nonprofit organizations, government agencies, churches, clubs, local small businesses and others who support the health, well-being, and livability of the greater Gig Harbor area will be on hand to share information. Admission is free; the civic center is at 17010 S. Vaughn Road NW.
The Pierce County Master Gardeners present a program on accessible gardening, from 10 to 11 a.m. Saturday, followed by a composting class  from 1 to 3 p.m. at Sehmel Homestead Park, 10123 78th Avenue N.W. Registration is not required for the free workshops.
Willy Wonka at PHS
Peninsula High School's production of "Willy Wonka & the Chocolate Factory" opens a two-weekend run Friday, May 12.
It's the story of Charlie Bucket, a sweet kid from a poor family who dreams of finding one of the five golden tickets hidden inside chocolate bar wrappers. Each ticket will admit the lucky finder to the magical chocolate factory of the eccentric and reclusive Willy Wonka. Will Charlie find the last remaining ticket and have all his dreams come true?
Curtain times are 7 p.m. Friday, May 12; 1 and 7 p.m. Saturday, May 13; and 7 p.m. Thursday through Saturday, May 18 through May 20. The cast varies for each performance. Buy tickets here.
BoatShop dinner and on-line auction
The Gig Harbor BoatShop celebrates our Waterfront At Work with a salmon dinner and live entertainment Friday, May 12 at the historic Eddon Boatyard. Dinner tickets cost $100 per person and are available here.
Concurrent with the live event, an online auction offers dozens of items from Pendleton coats to fine art prints, restaurant gift cards to a Fourth of July cruise aboard the BoatShop's restored purse seiner Veteran – and even an old, rusty anchor. Online bidding closes at 7:30 p.m. on May 12. To bid in the online auction, go here.
Daddy-daughter dance
Dads and daughters take the spotlight Friday, May 12 for a father-daughter dance and beach party at Ocean5.
The whole family will enjoy music, dancing, crafts and more. Choose from two ticket times, at $30 per parent/child duo. Sponsored by PenMet Parks. Pre-registration is required. Make reservations here.
Ongoing events
Michele D'Amour and the Love Dealers bring their unique take on blues classics to the loft at the Olalla Winery at 6:30 p.m. Friday, May 12. Their newest CD "Hot Mess" won two silver medals from the Global Music Awards. Reserve tickets here.
Flashback Cinema movies this week at Galaxy Theatres are Footloose, at 11:45 a.m. and 6 p.m. Wednesday, May 10; and the Wizard of Oz, at 12:15 and 6 p.m. Sunday, May 14. Tickets cost just $5.
A tapestry show at the Gig Harbor library, 4424 Point Fosdick Dr., continues through June 23. Members of the Tapestry Association of Puget Sound (TAPS) have several dozen hand-woven tapestries on display. For centuries, weavers have used tapestries to tell stories and convey ideas. The process is slow because the images are woven one strand of yarn at a time.