Gig Harbor Real Estate: Despite high mortgage rates, home prices tick up in October
It was a scary sight in October when mortgage rates spiked to a 23-year year high, causing the housing market to slow to a December-like crawl a few months ahead of schedule. But, while the historically high mortgage rates are keeping buyers and sellers at bay and impacting the volume of sales, they are not having a material impact on the median sales price.
For the first time in a year, the greater Gig Harbor and Fox Island area saw a slight increase in home prices in October. Up 0.1 percent from September to October, the median home price for single-family homes and condos now sits at $816,000. While the monthly increase is slight, it is significant in that it follows eight months of slowly declining prices at an average of 0.5 percent per month. The market is now down four percent from its peak.
Due to affordability concerns, for the most part, buyers and sellers in the market right now are only in it because they need to be. Often it's a life event like a death, job relocation, or divorce that propels them into the market. This severely limits both the inventory and sales but at an equal pace, keeping prices stable.
Historically low inventory
While housing inventory typically slows in the fall and winter months, the current level of housing inventory is much lower than average for this time of the year. In October, only 117 homes and condos were available for sale, of which 55 were new listings. Outside of the COVID-19 pandemic years of 2020 and 2021, there have never been so few homes for sale or new listings in any October since record-keeping by the Northwest MLS started in 2006. This is significant.
If historical trends repeat themselves, we can expect to see fewer than 85 single-family homes and condos on the market in December, which will undoubtedly make it difficult for buyers to find "the one."
Recent data also suggests that fewer homes may not be the only headwind buyers have ahead of them. The price homes sold for relative to their list price, days on the market, and months of supply all show that while we are not back to the frenzy days of early last year, it is becoming more competitive than it was just a few months ago. Any meaningful drop in interest rates will very quickly make it even harder for buyers to find and secure their homes. I can't emphasize that enough.
Homes go fast
But what is bad news for buyers is often good for sellers. The median number of days homes were on the market in October was 7. This is down from 21 days in September and 19 days in August.
As long as the home is priced correctly for today's market, this means fewer days of "the scramble" to get the home show-ready before heading off to work for the day. Of course, however, there are unique homes and outliers waiting for the perfect buyer to walk in their door, and those homes may take a bit longer.
Other areas of interest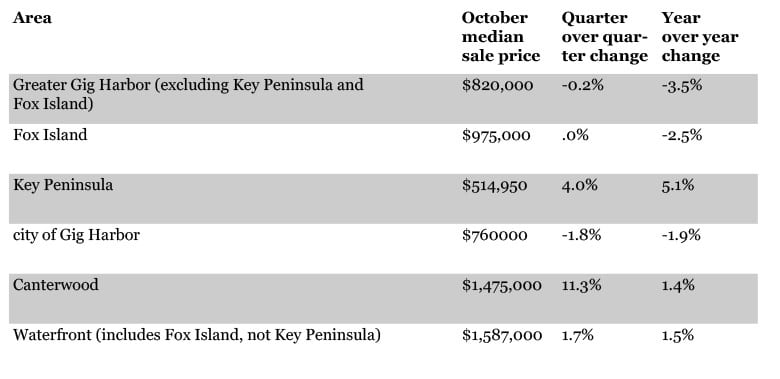 ---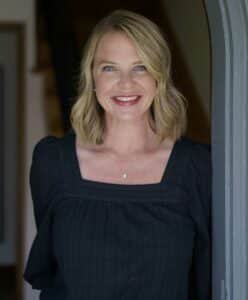 Alison Paoli is a real estate broker with Properties NW in Gig Harbor. Her longtime love of real estate includes her integral role in helping build Zillow from the ground up, to years working closely with economists and analysts investigating the real estate collapse and recovery in the US. As a Gig Harbor resident for a decade now, she loves sharing local insider tips with newcomers and equips all her clients with hard data that helps empower well-informed real estate decisions. Super energetic, Alison's a mom, wife, and local community volunteer, raising three girls active in athletics and arts.