Business spotlight: Iscreamery brings unique flavors to downtown Gig Harbor
Don't be fooled by the forecast. We're approaching ice cream season.
And there's a new spot in Gig Harbor to celebrate it. 
Iscreamery opened inside Brimstone PNW Smokehouse, 7707 Pioneer Way, last fall. And while business at Iscreamery was solid during the dreary seasons, owner Katie Doherty expects the shop to really hit its stride in summer. 
After all, when the weather gets warmer, people look for cooler treats. 
"We've never had a sunny weekend yet," Doherty said during an interview in early April. "Usually, by now, we would have been blessed with some touches of spring. But it'll come." 
Made in Gig Harbor 
As with so many things these days, the launch of Iscreamery is connected to the Covid-19 pandemic.
The shop occupies space in Brimstone that used to be a video game arcade. But guess what most customers couldn't or wouldn't use during the pandemic?
The video game consoles were just taking up valuable real estate. So Doherty and her staff set to brainstorming better uses for that space.
"I thought ice cream would be a good thing to do during Covid," Doherty said. "Our chefs said, 'That's a great idea, but let's make our own.'"
After acquiring the necessary equipment and know-how, the shop opened on Halloween 2021.
"People are very excited about it," Doherty said. "One, that it's made here, and two, that it's just damn good."
Seasonal scoops 
One of the advantages of making your own ice cream: You can experiment with different flavors.
Iscreamery has rotated flavors by season and by holiday, giving customers an excuse to return on the regular.
Some examples of holiday-themed flavors: Mocha Peppermint Patty and Ebeneezer (flavored like a hot buttered rum) for Christmas; Red Velvet and Raspberry Ribbon for Valentine's Day; Rocky Road to Dublin (made with Guinness Stout) and Lucky Irishman for St. Patrick's Day; and Carrot Cake for Easter.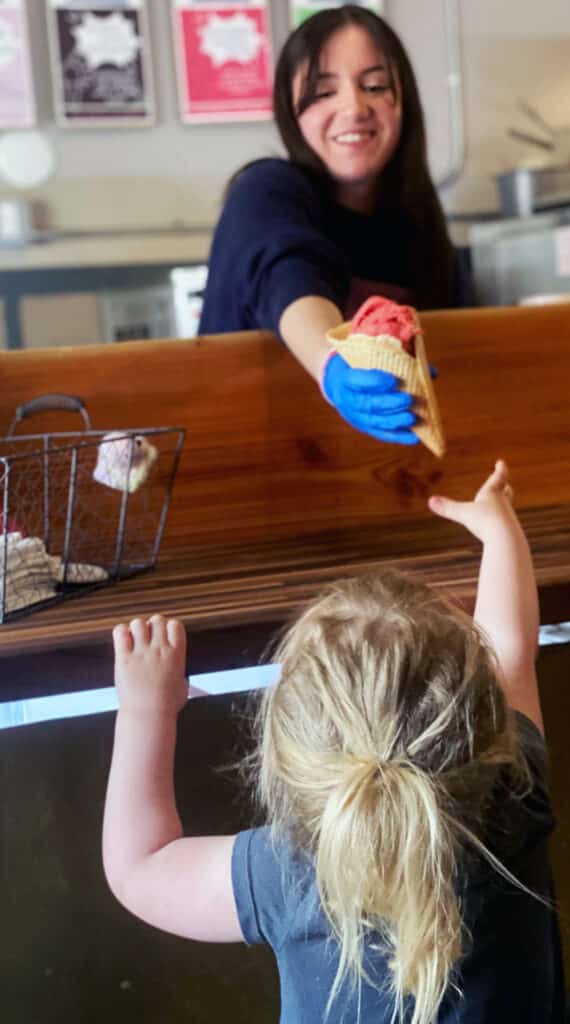 A Key Lime Pie flavor was in the works, Doherty said.
Even when they're not tying the flavors to seasonal celebrations, the ice cream magicians at Iscreamery have fun experimenting.
A coffee ice cream regularly on the menu is made with custom beans roasted by Martin Henry of Puyallup. To make it, chefs let the beans steep in the ice cream base for several days.
A Cracker Jacks flavor is made by roasting corn on the cob, de-cobing the corn, then blending it into the ice cream base. 
A family of restaurants and a restaurant family
The Iscreamery/Brimstone location is one of three restaurants in Gig Harbor owned or co-owned by Doherty and her husband, Thad Lyman. The others are next door to each other on Harborview Drive: Netshed No. 9 and Brix.
They form a full day of eating: Netshed No. 9 does breakfast and lunch (and dinner in summer), Brix focuses on formal dinners, Brimstone is "roadhouse" barbecue and Iscreamery is dessert.
Restauranting is in Doherty's genes. She grew up in Gig Harbor, and her father operated a tavern on Mercer Island. She jokes that she and her siblings earned their allowances by picking up quarters dropped by tipsy pool players in her father's bar.
During a 15-year stint living in California, Doherty and Lyman were partners in a big wine country restaurant, Napa Valley Grill.
Napa Valley Grill was the size of a city block, had capacity to seat hundreds and was the exclusive caterer for seven wineries. When they moved back to Gig Harbor and bought Brix about 14 years ago, which seats about 60, it seemed small by comparison.
So they grew, adding Netshed No. 9 nine years ago and Brimstone 3 ½. Iscreamery was a logical extension, as well as an opportunity born out of the pain of the pandemic. 
Cones, pints, shakes and floats
Iscreamery's offerings include traditional and chocolate cones (one scoop for $5, 2 for $6.70 or 3 for $9.50); seasonal cone options are lemon for summer and gingerbread in December. Sundaes and floats are also available, or you can take home a pint for $8.
Spring hours are 4 to 8 p.m. Thursday; 3:30 to 8:30 p.m. Friday; noon to 8:30 p.m. Saturday; and noon to 7 p.m. Sunday.
Summer may see expanded hours, as tourists and day-trippers start to crowd the downtown streets. If they take to Iscreamery as well as the mostly local crowd of fall, winter and spring, it could be a busy season ahead.
"I have been slinging drinks, for lack of a better term, for 20-plus years," Doherty said, referring to selling wine and beer. "I've never made people as happy as I do giving them ice cream."