Real estate: Housing market slows, but home prices stay steady
No matter how you slice it, the housing market in the Greater Gig Harbor area is historically slow. However, with both demand and supply for housing falling in lockstep, the median home price between the Purdy Bridge and Narrows Bridge remained fairly stable. 
When real estate brokers look at market activity, key data points we follow are the number of homes for sale; new listings; homes sold; and months of supply. All are data points pertaining to supply and demand.
Market activity was historically low in August, largely due to mortgage rate golden handcuffs — people who want to move but are having a hard time with the idea of trading in their current rate for one that is likely significantly higher. 
Homes for sale and new listings
On the supply side, homes for sale and new listings were down. At the end of August, 103 single-family homes and condos were for sale between the bridges. That's down 4.6 percent from July and 32.2 percent from August 2022. While this drop alone is significant, what is more concerning is how it compares to historical norms.
Over the past 10 years (excluding 2020 and 2021 due to COVID irregularities), an average of 322 single-family homes and condos were for sale in the greater Gig Harbor area in August. Compared to that average, homes for sale are down 68 percent this year.
Fueling the number of homes for sale is new listings. New listings are typically down in August due to seasonality, but they are down more significantly than normal this year.
August 2023 saw 57 new listings for single-family homes and condos, down 14.9 percent from July 2023. Excluding COVID years, greater Gig Harbor typically sees 103 new listings in August. The 2023 shortfall represents a drop in new listings of 44.6 percent. 
Demand also down
But while supply is low, so is demand. Annually, home sales are down 30.4 percent from one year ago and were 35 percent lower than a "normal" August. As a standalone metric without any context, this would be cause for concern for home prices. But given that supply is down even more, slow home sales are not enough to make a meaningful impact on the median home price. 
In August, the median price of a single-family home between the bridges was $834,998, which is unchanged from July but down 2.4 percent from one year ago and down 3.5 percent from the market peak in October 2022. 
Other areas of interest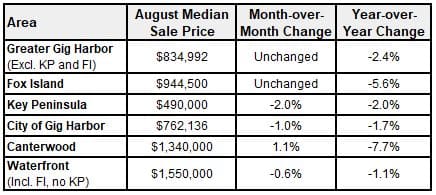 Looking ahead, while there is no crystal ball, we can again turn to supply and demand for clues on what's to come. 
The greater Gig Harbor market is stable, but a small shift could change the market. For example, if mortgage rates were to drop into the 6 percent range, we may see a flood of new buyers into the market – buyers without homes to sell because 6 percent still may not be low enough to get current homeowners to give up their mortgage rate. This will increase competition and, likely, prices. It will happen fast if it does. 
But if mortgage rates were to jump to 8 percent, which most economists say is highly unlikely, demand would fall further, which could put downward pressure on pricing. 
What I can tell you with certainty from talking to both buyers and sellers is that there are many of them waiting on the sidelines to make a move. Most of them are mortgage rate-motivated.
When the floodgates do open, which I believe they will at some point, a lot of people will be trying to move who have been wanting to do so for the past year or more. Will it be like Best Buy on a Black Friday in 2005? Maybe not, but it will undoubtedly move the market. 
---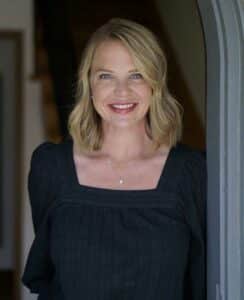 Alison Paoli is a real estate broker with Properties NW in Gig Harbor. Her longtime love of real estate includes her integral role in helping build Zillow from the ground up, to years working closely with economists and analysts investigating the real estate collapse and recovery in the US. As a Gig Harbor resident for a decade now, she loves sharing local insider tips with newcomers and equips all her clients with hard data that helps empower well-informed real estate decisions. Super energetic, Alison's a mom, wife, and local community volunteer, raising three girls active in athletics and arts.