Ecology seeks comment on Pierce shoreline changes
Residents have one more chance to weigh in on proposed changes to Pierce County shoreline regulations.
On Dec. 13, The County Council adopted amendments to the Shoreline Master Program on Dec. 13. The state Department of Ecology is now reviewing the amendments. They would:
Prohibit new residential piers and docks along about 52 more miles of saltwater shorelines;
Clarify permitting requirements for non-commercial aquaculture intended to restore native fish and shellfish stocks;
Clarify fencing allowances within shoreline buffers and setbacks; and
Update the Shoreline Master Program's incorporation of the county's critical-areas regulations to capture the most recent amendments.
The Ecology department will review the county's proposed changes against the Shoreline Management Act and the Shoreline Master Program guidelines. Based on the review, it will:
Approve the amendments as they are;
Approve them with recommended changes; or
Send them back to the county with required changes to meet legal and rule requirements. Ecology could include recommended changes as well as required changes.
The county, Ecology worked together
Former County Councilman Derek Young said the changes were a joint effort of the county and Ecology, so he doesn't expect any hang-ups.
"Unlike last time, when they pushed back on issues related to aquaculture and we tried to push past them, we worked through this with them. So I'm confident they'll approve, but they still have a public process," said Young, whose term expired at the end of 2022.
A public comment period runs from Feb. 28 through March 30. People can submit comments online via the eComments Form, or by mail to Tess Brandon, Washington Department of Ecology, Southwest Regional Office, P.O. Box 47775, Olympia, WA 98504-7775.
Questions can be directed to [email protected] or (564) 200-3016. Documents can be viewed here.
"We absolutely welcome public comment," said Robyn Denson, who won election into Young's seat. "We want to make sure affected residents are informed to changes of the shoreline management program and what it'll mean to our fish populations and the health of our ecosystem and the Puget Sound we all care so much about and want to protect."
Much of shoreline already off limits
Some 75.8 miles of Pierce County's 180 miles of shoreline, most of which borders the Gig Harbor and Key peninsulas and Fox Island, is already off limits to new residential docks and piers. That shoreline performs irreplaceable ecological functions or is reserved for commercial use.
Of the 52 new miles, 19.1 would comprise areas already defined as Marine Shoreline Critical Salmon Habitat where the county had placed a substantial setback for building on the land, but no limits on the beach.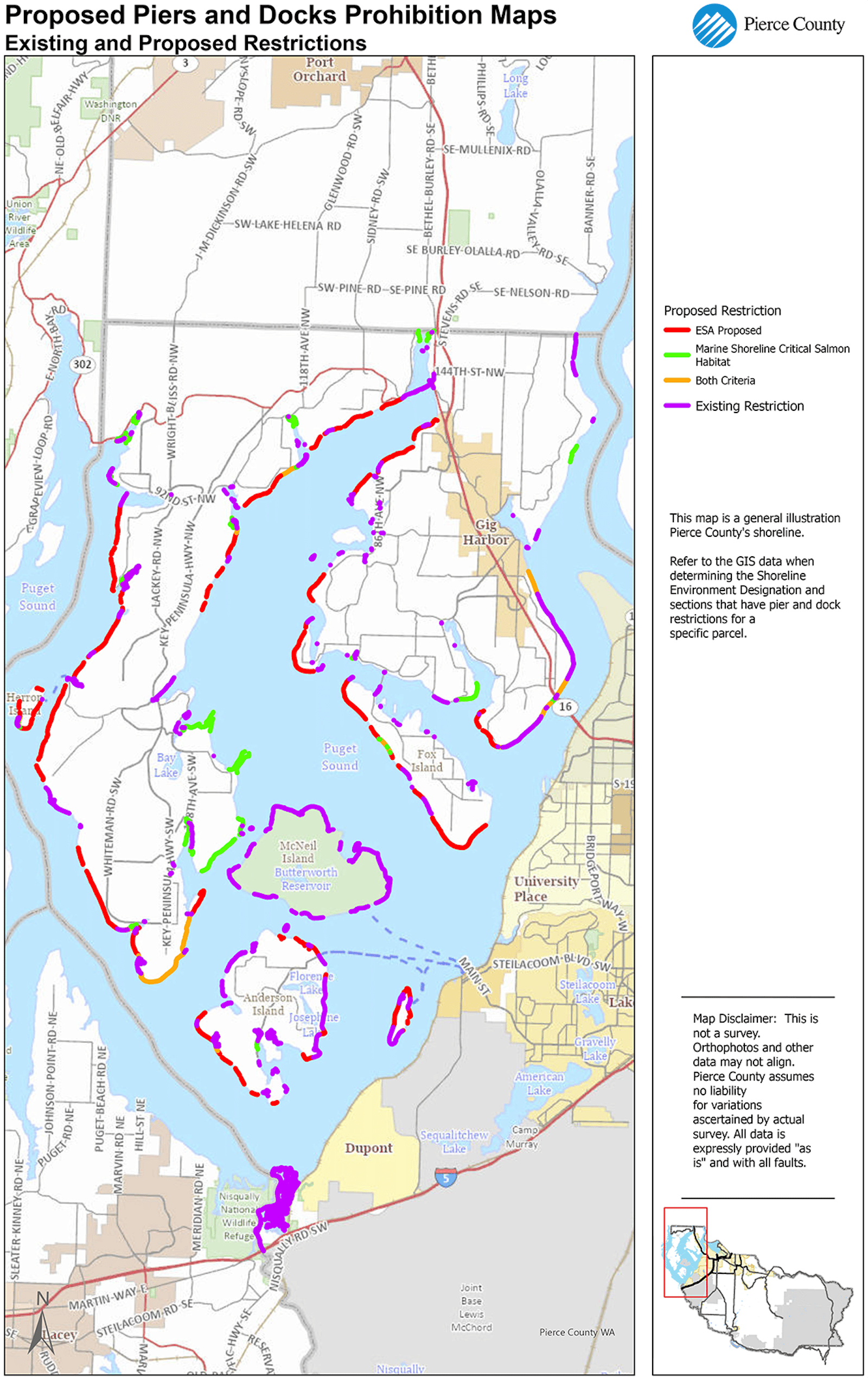 The changes would put much of the west sides of Fox Island and Key Peninsula, and most of Henderson Bay off limits to new residential piers and docks. They would continue to be allowed in the more protected, accessible waters where most already exist.
The state and counties jointly administer shoreline plans, but Pierce's was more lenient and in conflict. It didn't do enough to prevent loss of critical habitat for forage fish, migrating salmon fry and eel grass, or address high banks that recharge nutrients into Puget Sound, Young said.
Mixed reaction
The county received a mixed reaction during public hearings, Young said. Some property owners want to preserve the right to build docks and piers. Others see the need for shoreline protection.
Nobody spoke against the amendment during a Dec. 7 public hearing. Puyallup Tribe Land Use and Planning Director Andrew Strobel, and Tahoma Audubon Society's Kirk Kirkland, Eric Seibel and John Garner gave support.
Ecology will post a summary of public comments on its website a few weeks after the period closes. The agency also will post the county's response and its decision when they become available.