In the Margins: It's time for humanity to take off its training wheels
In October, my phone buzzed with an incoming message from my son-in-law. He proudly shared a video of my spunky 3-year-old granddaughter pedaling her new "big kid" bike, complete with hot-pink paint and fresh training wheels. She was grinding away on her pedals, then cautiously coaster-braking to a stop, much to the amusement of her iPhone audience.
I loved it because when I was a kid, my bicycle was my world. She was getting her first taste of that same exhilaration.
Later that day, my phone buzzed again, this time with much less charming news. I was bitterly reminded that children her age were suffering and dying unnecessarily on both sides of the embattled Israel-Gaza border. The stark contrast between those text messages stunned me.
Teenager in an overseas sandbox
Admittedly, I have a complex relationship with the Middle East that started on the shores of Tripoli in 1970.
I was 13 when we moved to Libya. My father, an exploration geologist, accepted an oil company's job offer that he could not refuse. When we arrived, Muammar Gaddafi, a headstrong 28-year-old army colonel, was ruling the sandbox. Libyan rebels had recently expelled their colonial Italian landlords from power.
As a teenager living overseas, I enjoyed the place and people of Libya. I loved how they baked bread and lamb, and how they haggled over anything with a price. I loved that VW Bugs and Fiat 850s were the only cars available. I loved the cheerful merchant at the corner store where I built an addiction to Sesame Snaps. I loved our school, except for French class. I loved the adventure of overseas travel and the novelty of living outside the U.S. I loved camping in the desert amid well-preserved Roman ruins. I loved swimming with my friends in the coastal reefs of the Mediterranean.
The experience also opened my eyes to some ugly realities. I realized that my younger, very blonde sister could be harassed on her way back from a friend's house. I realized that many of our common freedoms were disallowed. I was intimidated by the surly guards at the airport, who could confiscate a passport just to impress a co-worker. Even as a teenager, I sensed the warmth and good humor of the Libyan people could at any moment be exploited and compromised by irrational zealots in positions of power. Occasionally, I felt that stinging sensation of being resented or scorned because I was different — a privileged Westerner. I also missed hamburgers and Hogan's Heroes on TV.
Have a little faith
The news of Hamas' terrorism in Israel and the resulting spiral of violence left me awash in mixed emotions. The cultural, political, and religious pressure-cooker that is the Middle East was again being violently exploited by murderous fanatics. Once again, we find the Holy Land ablaze with blind hatred, falling into an inhumane cycle of depravity — another war.
Even inside the insular bubble of living in Gig Harbor, I felt angry and wounded — not unlike how I felt after September 11, 2001, or when I lost a boarding school classmate to terrorists' bombs in the 1988 downing of Pan Am Flight 103 in Lockerbie, Scotland.
Impulsively, I reached out to two people I did not know — a pair of local faith leaders. I wanted to know how others might be feeling about yet another war in the Middle East. Fortunately, I found Rabbi Bruce Kadden, who recently retired from Temple Beth El in Tacoma, and Mike Riches, pastor at the non-denominational Harborview Fellowship Church in Gig Harbor.
Looking inside a toxic turf war
While I was riding my bike as a teenager in Libya during the 70s, Bruce Kadden was living in Jerusalem studying to be a rabbi. During the early '90s, he again spent a year living in Israel, this time joining a kibbutz with his wife and two youngsters.
Iraq was invading Kuwait; the first Gulf War was erupting. In the kibbutz, they lived at the southern tip of Israel on the border with Jordan. Besides teaching, part of his communal duties included training with an AK-47 rifle and stints serving as security for the kibbutz — a rabbi carrying heat.
"Everyone took turns with security — even me," said Bruce. "I learned to shoot. I did some (border) patrolling and gate checks. But overall, we felt safe; we never experienced terror attacks."
When I asked him about his reaction to the Oct. 7 attack by Hamas, Bruce was calm, almost stoic, and philosophical. Perhaps it's thick skin from a lifetime of having studied and taught about Israel and Jewish history. He currently teaches Judaism-related classes at Pacific Lutheran University. His fall course is exploring religion and genocide. Very few of his students are Jewish.
"It has not been unusual to have rockets firing back and forth in this region," he said. "Apparently, this event was so different from any other attack; it meant Israel had to respond in a much more significant way."
Bruce said he doesn't have much patience when he hears calls for an immediate cease-fire, because he believes the fundamental dynamics of the region must change before peace will become sustainable.
"It's very complicated, but a simple way to look at it is this: Two peoples claim the same territory and have not agreed on how to divide it between them." Sadly, until that happens, he said we can expect a cycle of unrest and violence to persist.
Can we find a path to peace?
I asked my new faith consultants about a path forward in this war. Where do people find hope in any of this?
"It's hard based on what's happened. It's going to take a long time to end this," said Bruce. "But Israel has faced so much adversity and has continued to thrive. I have confidence that it will be able to do so."
From his vantage point as a Christian pastor, Mike Riches said the scriptures recognize the people of Israel having a distinctive "place of favor" in the world but that the overriding obligation is to honor and bless all people and groups.
"We have heartfelt compassion for all those involved," he said. "There are many Palestinians who do not reflect Hamas," he added.
Mike said some of his Christian followers also interpret today's cumulative global conflicts through a lens of Biblical transformation. Amid so many layers of troubling news, they see factors supporting eventual fulfillment of a Biblical second coming — a version 2.0 visit from Jesus.
Mike also is quick to emphasize that sympathy and honor for the people of Israel should never spill over into hostility or antisemitism toward Islam or the Arab people.
"It's important to be clear that we don't have a prejudice against Arabs or Muslims. We have a responsibility to honor all humanity," he said.
In today's divisive climate of social trolling and political tensions, Mike believes a broad responsibility to humanity is becoming more essential.  "The anger is everywhere these days. It's wearing a lot of people down. We want to minimize the antagonism."
Pride and frustration for Israel
Rabbi Bruce agrees. Before he retired as rabbi in 2020, he wrote a sermon in recognition of Israel's 72 years of statehood: "72 Things I Love About Israel." He described the young country's technological and medical achievements, its cultural diversity, and its ability to bring together Arabs, Jews, and others.
"People need to be reminded of what's been done in what is really a small country," he said. The population of Israel is about 9 million, about 1 million larger than the population of Washington state.
But the rabbi's sermon also acknowledged "many things that frustrate me about Israel, things we should not be proud of." As a practitioner of reform Judaism — a relatively liberal and modernized outgrowth of the religion — he believes the stricter orthodox arm of the Jewish community holds a disproportionate share of power over the parliamentary democracy in Israel.
"Reform Jews and other non-orthodox movements have had to fight for space for synagogues, or for the ability of women and men to pray together at the wall (a sacred place of prayer in Old Jerusalem)," he said.
He believes the country's conservatism too often impedes paths forward in other ways. "Ironically, the country has not always treated new immigrants as well as it might. You would hope that a country that prides itself on absorbing and welcoming people would figure this out," he said.
"At times, Israel is not moving forward in a more dynamic way toward peace efforts," said Bruce.
Building interfaith bridges
Bruce and Mike both agreed that stronger humanitarian bridges across various faith groups and cultures could help. Commitments from interfaith leaders could create more beneficial links between Muslim, Jewish and Christian communities.
As a local pastor, Mike understands that Gig Harbor still exists in a bit of a cultural and civic bubble, for better or worse. "Things in the outside world sometimes hit us a bit slower here," he said.
I had to agree with him. Perhaps we enjoy less cultural tension on the surface, but a lack of diversity also can hinder cultural growth and awareness.
During a sabbatical to Israel in 2012, Bruce took a bus to Jaffa (now part of Tel Aviv) for a Rotary Club meeting. He was surprised and encouraged to find a room of Jews and Arabs working together on community improvement projects. (No word on whether they enjoy fining each other like the Rotary members do in Gig Harbor, but I bet they do.)
Bruce pointed out that groups such as Associated Ministries are helping bring together faith leaders in Pierce County. "When it comes to the Middle East, the (interfaith) work just gets harder," he said.
Will humanity take off the training wheels?
My conversations with these two faith leaders left me feeling better equipped to process the ongoing news of war in the Middle East. From my bubble here in Gig Harbor, I could find a starting point, or a restarting point, for hope. In the balance of my personal love-hate relationship with the Middle East, I could work to make sure that love prevails.
Given a choice, I will recall my time in Libya with the smell of warm bread and roasted lamb. I will relish the smiles of the corner store merchant rather than resenting the grim scowls of those airport security guards. I will choose memories of swimming in the sea rather than seething over occasional insults muttered by people who were angry, ignorant, and disadvantaged.
Staying on course toward hope is never easy. Just watch my granddaughter, who continues to frequently hit the brakes on that new bike. One day soon she will shed the training wheels, push harder on the pedals, and be on her way. Let's hope that our humanity can do the same.  Let's hope that we are resilient enough to prevent the terrorists and bullies from defining our memories and our lives.
---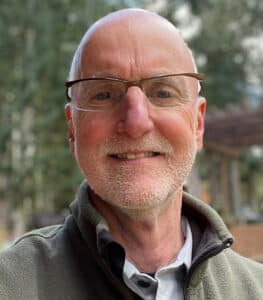 Christopher Phillips, a Gig Harbor community member since 1981 and former managing editor of The Peninsula Gateway, is a retired journalist and communications executive who worked for Russell Investments, the Port of Tacoma, and the Washington State Investment Board. His column, In the Margins, explores our community's people, places and experiences, some of which might not otherwise come to our attention. Suggestions are welcome at [email protected].