Peninsula High film students' work showcased at the Uptown Galaxy
It's a sunny day on a country road, as an old man riding a blue scooter greets the mail carrier and invites him to dinner. Three teens appear walking down the road, and the plot twists wretchedly. Just wait 'til the postman takes a bite of Edith's pot roast.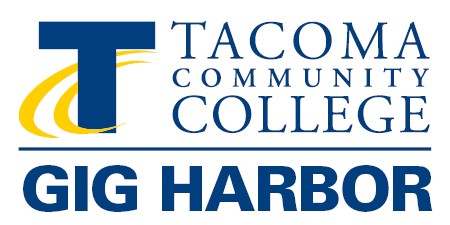 Education Sponsor
Education stories are made possible in part through a partnership with Tacoma Community College, which sponsors Gig Harbor Now's coverage of education.
"The Scoot-Scoot Man," a horror short by Peninsula High senior Amber Dalby, was one of 11 student-made films shown at a film festival in March at Galaxy Theatres Luxury+ in Uptown Gig Harbor. The festival showcased students' work from the past year. Awards were based on an audience poll after viewing.
Community support of the arts
In past years, the high school auditorium hosted the festival. But that venue was unavailable this year due to lack of staffing. Digital film instructor Mick Flaaen reached out to Kim May, general manager of the Galaxy, and she was open to hosting the event.
"Keeping arts in schools is a passion of mine," said May. "There is something very special about seeing a project you created on the big screen, so when we were asked if we would allow the students' films to be shown here, we jumped at the chance."
Flaaen applauded the Galaxy's support of Peninsula High. In addition to May, he gave props to assistant manager Montana Schneider, who helped him convert the films to a high-quality format compatible with the cinema's projection system. Schneider also oversaw logistical planning for the event.
Flaaen hopes Peninsula's partnership with the Galaxy can continue in future years.
The big screen experience
An intimate affair, the festival drew a few dozen in the audience including students' friends and family. The students were thrilled to see their films shown in a commercial cinema.
"That was insane," said Gabe Radke-Reeves, who co-produced and starred in "At the Tone," a dramatic short that took first place at the festival. "I saw myself on the big screen … that was, like … I was blown away. It was kind of surreal."
"It was really weird and really cool," said Justin Duckworth, who co-produced, filmed and edited "At the Tone."
Duckworth is a photographer and videographer who edits the high school's weekly news broadcast and specializes in "sports hype" videos. He took Flaaen's digital filmmaking class last year, is part of Peninsula's Media Club and has his own media site, made.by.ducky.
Duckworth routinely views his films on a monitor or projected in the classroom. The screening at the Galaxy was on a whole new level.
"Seeing it on the screen with the big speakers and everything, it was just … it was awesome," he said.
And the winner is …
"At the Tone" tells the story of a young person who leaves voicemail messages for his late mother until the phone company disconnects her number.
Lyrics from a Kendrick Lamar song, "United in Grief," inspired Radke-Reeves, whose mother thankfully is very much alive. He wanted to explore someone coming to terms with grief, so he created a draft version intending to post it on TikTok.
Duckworth saw the video and proposed a collaboration. He had the equipment and experience to polish the film. Editing is his favorite part of the process.
A senior, Duckworth will attend Washington State University next year. Although he probably won't major in filmmaking, "I think film will always be something that's part of my life," he said. "Mr. Mick has been a very big inspiration. He's been probably, like, my number one supporter, too."
Radke-Reeves, also a senior, has not taken filmmaking, but he makes numerous TikTok videos. He is part of Peninsula High's performing arts community and plans to major in performing arts next year at Central Washington University.
His mother, Christina Radke-Reeves, and father, Nathaniel Reeves, cheered when "At the Tone" won the film fest.
"I absolutely loved it," his dad said. "I was really impressed."
'The Scoot-Scoot Man' backstory
Amber Dalby has been making films since she was in seventh grade. "The Scoot-Scoot Man," which she co-wrote with Ava Emory, and which she directed and edited, won the Lloyd Kaufman Award in October at The 48 Hour Film Project festival in Seattle. Entrants have 48 hours to create a short film from start to finish.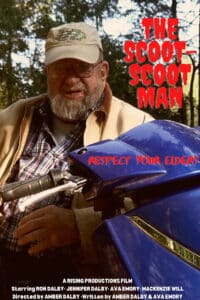 "The Scoot-Scoot Man" took second place at the Peninsula High School Film Festival at the Galaxy. Crypticon, a horror convention in Seattle May 19-21, accepted the film.
Dalby wrangled her grandparents, Ron and Jennifer Dalby, into playing leading roles in the film, which is at once quirky and macabre, humorous and horrifying.
"My grandpa and me, we have this fun relationship where we just kind of like to antagonize each other," Dalby said. "So, I kind of just created this villain persona for my grandpa and wrote the role specifically for him."
It's fair to say the two old folks steal the show.
"They used to be kind of like theater geeks," Dalby said. "So, it was just kind of a matter of me tweaking their performances to be more film oriented, but they already had, like, the acting chops."
Her dad, Eric Dalby, also appears in the film.
Dalby plans to attend the Savannah College of Art and Design in Savannah, Georgia, for film and television. She's game to enter the male-dominated field of film production. "I do feel really confident like in my own abilities," she said.