Julie Martin settles in to her post on city council
Julie Martin, newly appointed to the Gig Harbor City Council, isn't fazed by having to dive into big issues her first day on the job. She has an extensive background — more than 35 years — much of it in the public sector.
Martin was appointed to the council to fill the seat vacated when Robyn Denson won a spot on the Pierce County Council.
The council voted 5-1 to appoint Martin and was sworn in on Jan. 12.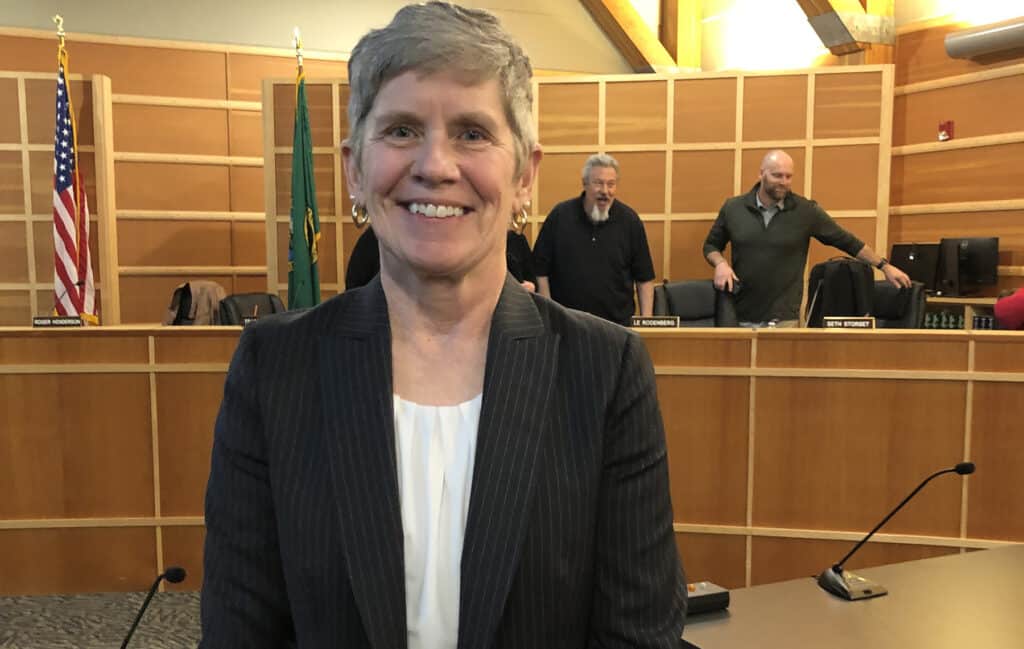 Martin's background
Martin retired in November 2022 after eight years with the state Department of Corrections, most recently as chief of staff. She also served on several state commissions, including the Criminal Sentencing Task Force that reviews the state's felony sentencing guidelines and makes recommendations to the Legislature.
Her resume also includes jobs with Northstar Lottery in Chicago and the Washington State Lottery.
Martin moved to Gig Harbor from Tacoma in 2018.
"We often came here to take walks along the waterfront and to go to events," she said. "We ate at many of the local restaurants and just really came to love this place."
She sees her city council position as a chance "to give back to the city and to pay back all the people who've done so much for Gig Harbor for so many years."
She also sees it as a responsibility. "Council members represent the citizens of our community, and it's our job to listen to what they're saying, to look at the data and do the research necessary to make good decisions for today and for 15 to 20 years from now," she said.
That means listening to different points of view, to "hear the nugget of what the person is saying."
Challenges facing the city
Martin considers public safety, mental health issues and growth the biggest challenges facing Gig Harbor right now. But to her, challenges are opportunities.
The city must keep growth in line with the state Growth Management Act while also factoring in affordable and emergency housing, she said.
On the public safety front, Martin thinks that the state Supreme Court's Blake decision — which effectively legalized drug possession — has led to an increase in crime and caused problems for law enforcement. She's also critical of legislation restricting police officer's ability to pursue criminal suspects. She plans to work with local legislators to find solutions.
Climate change provides another opportunity to work with other local governments to seek ways to maintain a healthy environment. It's important that cities find local solutions to solve local problems. That means having local control over some important issues.
All those things affect Gig Harbor's quality of life, she said.
During her off time
Martin said she enjoys Gig Harbor's festivals and events, like the Summer Sounds concerts in Skansie Park. Those kinds of artistic activities are opportunities for people to get to know each other, she said.
"Music and other arts encourage conversations and contemplation that we might not otherwise have, and they foster way of getting to know your neighbors," she said. "The arts allow us to find joy and also give us an awareness of lives and issues that are different from ours," she said.
During breaks from her day job duties, Martin loves to travel. She just bought a Volkswagen van and plans to use it for camping in her favorite places like the Oregon coast and British Columbia, Canada.
As she settles into her new role as a city council member, Martin said she looks forward to meeting her constituents. "Government work is very complex. There are state regulations, federal regulations, city and county regulations and it's my job to help our citizens understand the 'why' of things.
"I want them to know that I'll always be approachable and I'll always listen. Every citizen has a point-of-view and it's important to meet them where they're at on the issues and find that nugget. Everyone's opinions matters, and everyone deserves to feel important."