10 (or so) questions with Peninsula High's Brooke Zimmerman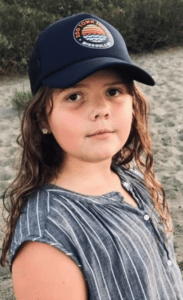 Editor's note: Today, we begin an occasional feature in which Molly Martin, a 10-year-old Purdy Elementary School fifth grader, interviews local high school athletes. Molly offered to do these Q&A's because she is very interested in Gig Harbor and Peninsula high school sports. Today, she starts with an interview with Peninsula girls basketball player Brooke Zimmerman, a senior.
Molly: What is your favorite pre game snack or post game treat?
Brooke: Liquid IV for pregame drink; Coach Kate's homemade cookies for postgame treat
---
Molly: Can you tell me about any special basketball coaches you had as well as any special memories from youth sports?
Brooke: I loved playing Upward basketball when I was little with one of my closest friends to this day, Bella Bockhorn. It was such a great environment. Coach Tory, (teammate) Kaylia Heidelberg's dad, is on the top of the list for coaches growing up. He always pushed me to my full potential and is still to this day always talking to me about my game and how I can approve or add anything. He also likes to take credit for all the good things that I do on the court. Haha.
Of course, Coach Hannah (Lekson, Peninsula's head coach) is by far one of my favorite coaches I have ever had. She also pushes me and makes playing Peninsula basketball so much fun! She also loves winning!
---
Molly: If you could be as good at another sport as you are at basketball, what would it be and why?
Brooke: Volleyball because I've always wanted to play but just stuck to basketball. I'm tall so a lot of people tell me I should have played. I also love playing volleyball at the sand courts with my friends!
---
Molly: What is your favorite school subject? Do you have a favorite teacher?
Brooke: I don't have a specific favorite subject, but my favorite teacher is (Pete) Pratz because he jokes around a lot with my table group during class and he understands sports.
---
Molly: What is the hardest thing about basketball?
Brooke: The hardest thing about basketball is confidence and the mental side. When you have a bad game, you can't dwell on it or that can ruin future games. Every game is different and my mindset is one game at a time. When a bad game occurs you have to pick yourself up and tell yourself what you can do better for the next game.
---
Molly: What do you love about your sport?
Brooke: I love the community. Playing with fans in the stands is the best feeling. I love the team culture Peninsula has. It's like my second home. Basketball is my go-to whenever I'm bored or need some time to clear my head.
---
Molly: What advice would you give to someone my age who wants to get involved in sports?
Brooke: Playing a sport has kept me more involved in the school, has helped me create friendships outside of school, and has given me a reason to like to stay in shape, and so much more. I would encourage everyone (your) age to try a sport for all of these reasons.
---
Molly: Who is your favorite professional or college athlete and why?
Brooke: (Golden State Warriors star) Klay Thompson is my favorite because he has gone through many injuries, like me, and a lot of people doubted him. He bounced back from his injuries and is still proving them wrong.
---
Molly: What do you want to do when you grow up?
Brooke: I want to get a degree and become a Medical Sales Representative. I also want to get into real estate.
---
Molly: What is your favorite thing to do outside of sports?
Brooke: My favorite thing to do outside of sports is hangout with friends, be outside, and read.
---
Molly: Who encouraged you to play basketball? Who is your biggest supporter now and how do they support you?
Brooke: My parents put me into a basketball program when I was 5 years old, and ever since, I have loved the sport and never wanted to stop playing. My biggest supporter is my mom. She has always believed in me and is constantly building up confidence in me. She has always supported me in my sport, school, and everything outside of school.