Gig Harbor Council OK's incentive for early completion of Harborview Drive roundabout
Gig Harbor acknowledged complaints about the duration of its Harborview Drive-Stinson Avenue roundabout project and moved Monday to pick up the pace.
The City Council unanimously approved up to $75,000 in incentives for Active Construction to finish the job early. The contractor will receive $5,000 for every working day (not weekends and holidays) — up to 15 — that Harborview opens before June 9. The final layer of asphalt was originally scheduled to be applied that day, after which drivers can fully use the roundabout during non-construction hours and it can carry alternating, two-way traffic while finish work is being completed.
"If the contractor takes advantage of all of the money available, the change order would have the detour removed three weeks ahead of schedule, put it into about mid-May," Public Works Director Jeff Langhelm told the Council at its Monday meeting.
Long detour for southbound drivers
Until then, Harborview will continue to be reduced to one lane of traffic headed north toward the end of the bay. Those going south face a long detour around the work site.
Councilman Roger Henderson cautioned that an early opening isn't assured. Weather days are built into the contract. In fact, soggy Monday could have been considered a weather day, Langhelm said, but the crew kept working.
"We want to make sure nobody starts looking at dates and say that's when it's going to be due," Henderson said. "They could be finished multiple days early, but it could be pushed out to June because of weather delays. We want people to understand there are no guarantees that it'll end early. The best we can do is applaud you for coming up with a solution."
Councilwoman Jeni Woock asked if the contractor is on board with the speeded-up plan. Langhelm responded that Active signed the change order and has already begun executing it. It can increase the length of shifts or work more days. Code restricts work hours to 7 a.m. to 8 p.m. on weekdays and 8 a.m. to 8 p.m. on weekends.
The $75,000 in incentives would come from a $238,000 cushion in the project's $2.1 million budget.
Traffic signal not a good option
The city held three meetings with residents and businesspeople to hear concerns and review options, Langhelm said. Among the many questions was whether it would be feasible to stop the project and install a traffic signal instead. To meet safety requirements, that would require significant grading, with a closure time of at least as long. A stoplight would cost more to operate and improve Stinson wait times less, according to the city.
The intersection had an "F" rating, with each car waiting on Stinson an average of 1 minute, 48 seconds to enter Harborview. The city said the wait was projected to grow to more than 3 minutes over the next nine years.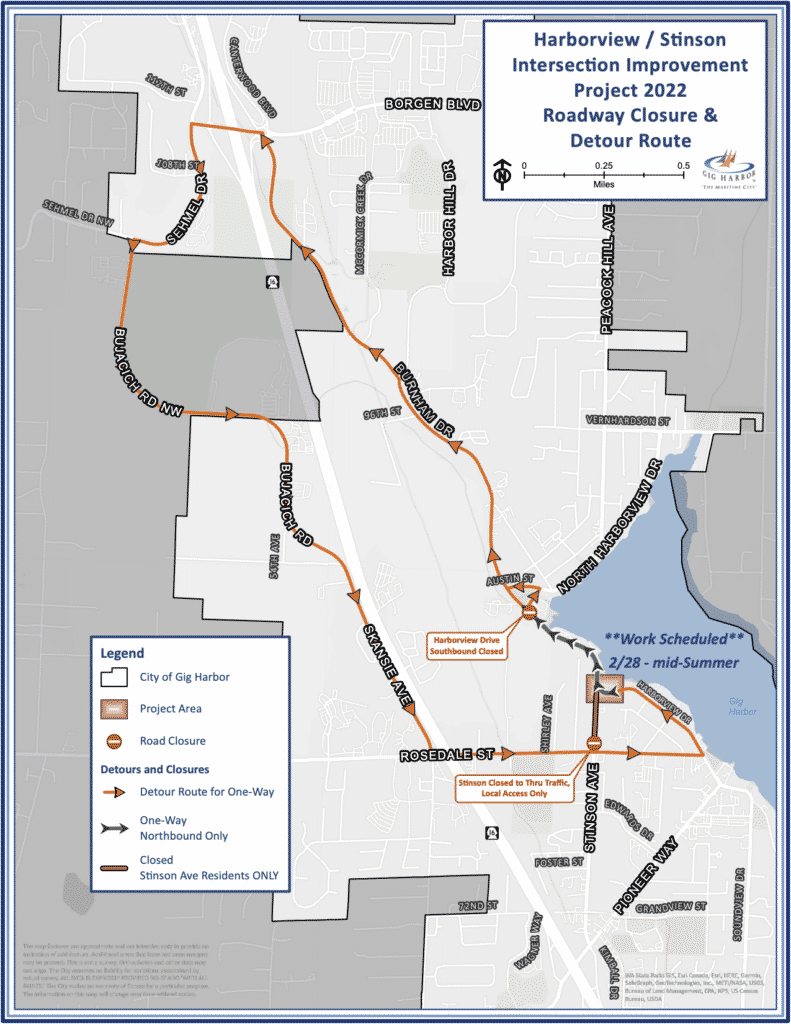 City staff planned extensively and explored many options to limit the inconvenience, but there was no escaping it, Mayor Tracie Markley said in a phone interview Sunday.
"They have really been trying to mitigate it, despite what you read on social media," she said. "All of those (negative) things are coming from fear and anger and hurt, but they couldn't be further from the truth. It keeps us up at night knowing how much they've already suffered from COVID.
"I think where a lot of the fear is coming from is the poor businesses have already taken such a hit. Their revenues went down severely, and we feel terrible about that. For right now with this project this was a way that we could try to get the businesses some help by trying to end this as early as we possibly can. I do promise our citizens that we are doing everything in our power to help this project get done sooner and to listen to them."
Supporting local businesses
Jacqui Hightower, who owns The Gourmet Burger Shop at the north end of the detour with husband Travis, confirmed the mayor's beliefs. Two-way traffic flows in front of the restaurant and adjacent businesses, but a barricade a stone's throw away blocks southbound drivers from going farther. About half as many customers have visited on some weekdays, though weekends have held steady.
"It's very confusing," she said. "People see the bright orange signs and immediately turn, so they're just avoiding the area entirely. Our issues have mainly been why now when we just started seeing the light after a two-year pandemic. We've seen people go under, our friends in the industry. Why on Earth are we going to tackle between five and six months (of traffic disruption)?"
The only solution Hightower sees now is to speed up the project, as the city is attempting.
"I'm not trying to just speak for myself or my business," she said. "I care deeply about the harbor, the community, including all of the other businesses. I feel for everybody and just want all of us to make it, all of us to thrive. I'm sending solidarity and best wishes for success to all of the people being affected by this, and hope it ends sooner."
Chamber, Waterfront Alliance help
The city, Gig Harbor Chamber of Commerce and Downtown Waterfront Alliance are spearheading efforts to return shoppers to downtown, including an "I Love Downtown" campaign to be announced soon, an attempt to increase trolley service and to install a webcam so people can survey the traffic situation before setting out.
"Both organizations would like to remind people there are very easy ways to get to the businesses, whether you turn around and go back the same way you came or drive through the construction zone. Be sure to continue to support the local businesses," said Chamber President Miriam Battson.
"Last week there was hardly any traffic downtown. You could do a cartwheel down the middle of the street. We encourage people to continue to keep in mind the downtown merchants due to them being the gem of Gig Harbor and we want them to continue to be able to thrive coming out of COVID."
We encourage people to continue to keep in mind the downtown merchants due to them being the gem of Gig Harbor and we want them to continue to be able to thrive coming out of COVID."

Miriam Battson, Gig Harbor Chamber of Commerce president
Downtown Waterfront Alliance Executive Director Mary DesMarais said there's a misconception that downtown is a mess. She encourages people to take a positive approach to the construction.
"We want to remind people how supportive they were of downtown businesses throughout the pandemic and advise the community to do that again," she said. "You see the barricades and it makes you stop and think, 'Do I want to go there?' but they're all open and they all need your support. We're looking to try to do things throughout the construction project to get people downtown. Everybody loves downtown the way it is, loves our businesses. Let's put energy into supporting them instead of complaining about the project."