Highway 302 closure at Minter Creek extended until Aug. 23
Highway 302 at Little Minter Creek will remain closed four extra days.
Complications during installation of a new culvert will delay the reopening of a section of Highway 302 on the Key Peninsula. The highway, which was expected to open at 5 a.m. Saturday, will remain closed until Tuesday afternoon (Aug. 23).
During the closure, which began on Aug. 11, drivers will continue to follow the signed detour for passenger vehicles using 118th Avenue, Creviston Drive, 134th Avenue and Key Peninsula Highway.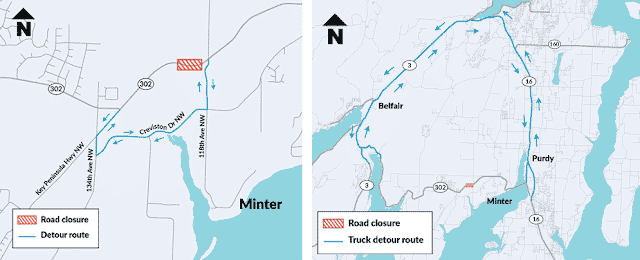 A separate detour is in place for semi-trucks and oversized loads using highways 302, 3 and 16. The detour adds about 25 minutes of travel time.
Crews are installing two large culverts to improve fish migration in Little Minter Creek.
Travelers are encouraged to sign up for email updates. Real-time traffic information is available on the WSDOT app and WSDOT regional Twitter account.
Highway 16 night closures begin Monday
Nighttime travelers who use Highway 16 near the Highway 302 interchange will see lane closures and slower speeds beginning Monday.
Contractor crews working for the Washington State Department of Transportation will shift eastbound lanes to the outside shoulder. This temporary change will create a new work zone in the median. The temporary changes will allow crews to remove the first of two old culverts under Highway 16 for Purdy Creek.
The left lane of westbound Highway 16 will close from 10 p.m. Monday until 6 a.m. Tuesday. One lane of eastbound Highway 16 will close each night, Monday through Friday, from 9 p.m. to 6 a.m. each following day.
Once in place, eastbound Highway 16 will have 11-foot lanes and 2-foot-wide shoulders through the work zone.
Some of the work is weather sensitive and may be rescheduled.
This work will help return Purdy Creek under Highway 16 to a more natural state. The project is part of WSDOT's program to remove barriers to fish under state highways.
Real-time traffic information is available on the WSDOT app and WSDOT regional Twitter account.