Pierce Transit restoring partial trolley service beginning July 1
Pierce Transit found enough bus drivers to provide Gig Harbor trolley service a couple days a week this summer.
Last year, a nationwide operator shortage forced it to suspend the route. The best the agency could do was wrap its regular Gig Harbor Route 100 bus to resemble a trolley car and add a stop at the Uptown shopping center.
When insufficient staffing continued to prevent the full return of service this spring, the agency asked local business leaders which two days would work best.
Available for farmer's market, Saturday fun
"Providing this service on Thursday will serve our community on busy farmer's market days, and Saturday service will assist with tourism-related travel," Mayor Tracie Markley announced.
A bus adorned in red trolley livery will begin operating on July 1 and continue through Aug. 31, according to Pierce Transit Communications Manager Rebecca Japhet. It will run hourly from 3:05 p.m. to 9:03 p.m. Thursdays and from 11:40 a.m. to 6:28 p.m. Saturdays.
Runs between Uptown, Gig Harbor North
The route will shuttle back and forth between Uptown and Gig Harbor North via the downtown waterfront district. See the graphic for the route, stops and timetables. Bus stops remain signed from previous service.
"We value our partnership with Pierce Transit and have had regular meetings surrounding the Gig Harbor summer trolley, citing our strong desire to have full trolley service," said City Administrator Katrina Knutson. "Like many agencies, we understand Pierce Transit is experiencing unprecedented staffing shortages as a result of the pandemic and other factors.
"We are grateful to have the trolley back on Thursdays and Saturdays this summer to assist in providing rides downtown to events like the farmer's market and to the many cultural and shopping opportunities downtown has to offer. The trolley is a wonderful way to get downtown without having to worry about where to park, and has a side benefit of reducing traffic as well.
Hoping for full 2024 return
"We will continue to work with Pierce Transit to provide full trolley service (in a real trolley) for Summer 2024."
Pierce Transit originally ran actual trolleys on the route, but retired them when they aged out. New ones are on site and being outfitted.
"We did order new trolleys, but they are not yet ready to be used in service as we are working to ensure their ramps are fully ADA compliant before placing them into service," Japhet said.
$2 for adults, youths free
Pierce Transit will charge regular bus prices, Japhet said. Adult fares are $2. Last Sept. 1, youths 18 and younger became eligible to use Pierce Transit services for free through the Move Ahead Washington state transportation revenue package. Seniors 65 and older, disabled people and Medicaid card holders can ride for $1.
In past years, adults rode for 50 cents, the discount subsidized by the city and organizations such as the Chamber of Commerce, Downtown Waterfront Alliance, Uptown business district, The Inn at Gig Harbor and Heron's Key retirement community. There will be no discount this summer.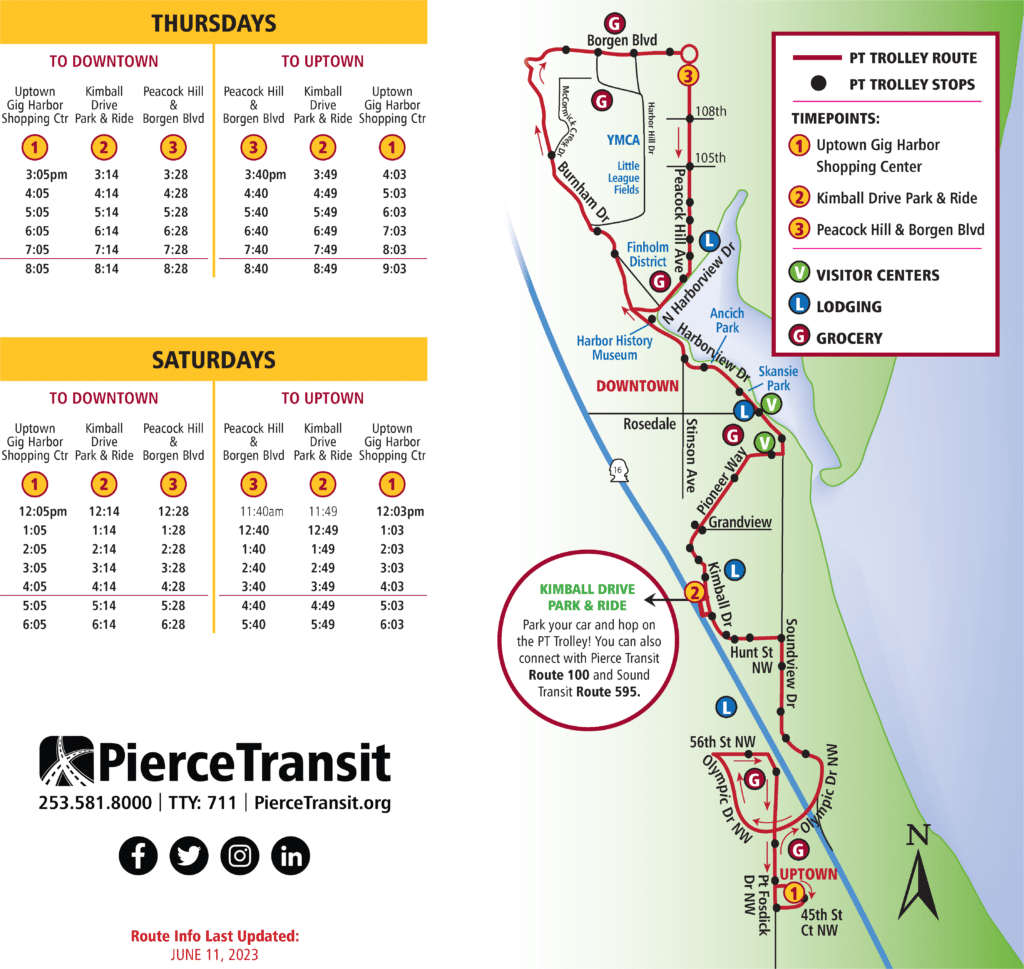 Downtown Waterfront Alliance Executive Director Carianne Ekberg appreciated that Pierce Transit sought input from local leaders on which days to operate.
"I think it's great," she said of the partially restored service. "Any time there's an alternative mode of transportation to bring people down to Gig Harbor, especially on Thursdays when there's the farmer's market and activities, and on Saturdays and it's a beautiful day and people are off work. It's an easier way for them to get downtown."
More than just transportation
Besides reducing cars on streets and in parking spots, the trolley is itself an attraction.
"It's a lot of fun," said Chamber of Commerce President and CEO Miriam Battson. "There are a lot of families that enjoy taking the trolley with kids and grandkids and riding it through town to different stops. They're able to spend a fun day being tourists in their own hometown, getting the joy out of maybe parking Uptown, catching the trolley, walking the waterfront, eating lunch, shopping, going to the museum and catching the trolley back to Uptown. A lot of families look forward to it every summer."
The service began as a 2013 demonstration project and operated on an annual agreement between the city and Pierce Transit. The agency did not operate trolleys during the pandemic in 2020. Service returned in 2021 with COVID protocols in place. During the last normal year, 2019, it attracted about 16,000 riders.
"Not having to find parking is a big benefit, as well as reduced traffic in a congested area," Japhet said. "It's also a fun and affordable summer activity for families to ride, and benefits the environment over driving a single-occupancy vehicle."
Transit continues to recruit
Pierce Transit continues its effort to hire more operators through a recruitment campaign that includes a $5,000 signing bonus for new drivers and mechanics.
"While we are having enough success hiring drivers to be able to offer the trolley service on Thursdays and Saturdays this summer, like other employers we also have operators that are retiring and moving to other positions, so we are doing everything we can to keep our overall operator numbers moving upward," Japhet said.