Janet Elaine Medcalf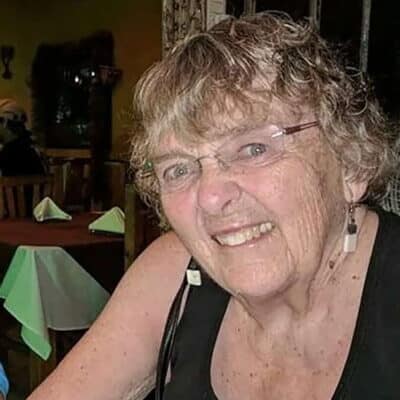 Born: January 18, 1938 Death: June 1, 2022 Funeral Home Details:
Neptune Society
Address: 3730 S Pine St Tacoma, Washington 98409
Phone: (253) 444-4812
Funeral Home Website
"She was an Angel in the shape of our mom."
Janet Elaine Medcalf, died on June 1, 2022. Janet will always be remembered for her amazing smile that wrinkled her nose and reached her sparkling blue eyes. The love and kindness she lived daily was both expansive and beautiful. Her thoughtful cards can be found in friends' houses all over the world. Janet's love of Tillamook ice cream and her basket of cards waiting to be sent makes us believe Tillamook® and Hallmark® will miss her too. Janet and her husband Darrell traveled extensively, always finding a way to live life to the fullest. Janet's pride and joy were her six grandchildren.
Janet was born on January 18, 1938, in Fort Collins, Colorado, to Louis and Marjorie (Hill) Hunter. On August 13, 1960, she married Darrell Medcalf in Fort Collins, Colorado. Darrell and Janet met at Lewis and Clark College in Portland Oregon.
They raised their daughters — known as the three K's-Kathi, Kristi and Kari — in Fargo, ND, Gig Harbor, WA, Chappaqua, NY and Hershey, PA. Janet and Darrell also lived in the Chicago area after the girls were grown.
Janet is survived by her husband of 62 years, Darrell Medcalf; her three daughters, Kathi Medcalf of Tacoma, Kristi Bell (Jay) of Gig Harbor, Kari Johnson (Scott) of Bend Or.; her 6 grandchildren, Evan Breen, Isaac, John, Christian and Jessica Johnson and Araya Bell. She is also survived by her brother Bill Hunter (Margie) of Fort Collins Colorado, 6 nieces and 1 nephew, and her cousin Ann (Andy) Deseran.
Janet was a long-time member of the Gig Harbor United Methodist Church, where she sang in the choir for many years. She was also a volunteer for Fish, and a member of the local chapter of AAUW.
A Celebration of Life service will be held at the Gig Harbor United Methodist Church, on July 17th at 2:00 PM. In lieu of flowers, donations can be made in her honor to Gig Harbor Peninsula FISH, www.ghpfish.org