Lois Sandlin Hartwig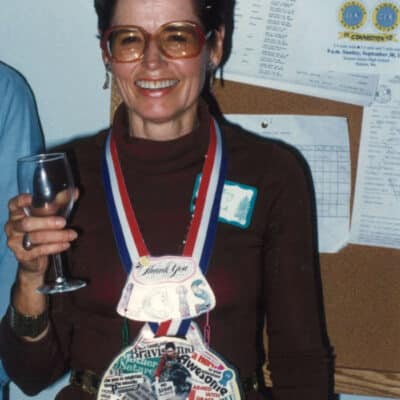 Born: December 28, 1931 Death: July 20, 2023 Funeral Home Details:
National Cremation Society
Address: 4460 E Thomas Road Phoenix, Arizona 85018
Phone: (602) 840-0335
Funeral Home Website
SCOTTSDALE – Lois Sandlin Hartwig passed away suddenly on July 20th, 2023, at the age of ninety-one. She is preceded in death by her sister, Onie, and her husband of sixty-five years, Colonel Robert Dahl Hartwig, who passed away earlier this year. She is survived by her sister, Barbara Ann and brother Ollie, her son David, and grandson Marcelo.
Lois was born in the small town of Brookwood, Alabama, in 1931, to Sam Sandlin and Lethie Bell Hallman. Upon graduation from the University of Alabama in 1953, she worked for two years on the staff of a senator in Washington D.C. One fateful evening in Montgomery, in 1957, this Southern Belle was swept off her feet by a dashing Air Force pilot from up north, who whisked her away to the far corners of the earth.
In 1979, they retired to Gig Harbor, Washington, led a life of sailing, reading and community involvement, migrated to Scottsdale in the winters starting in the nineties and eventually moved to Arizona full time in 2013.
From humble roots, Lois came to embrace the larger world around her and made each place a bit more special with her presence, whether partaking in traditional Okinawan dance in Japan, organizing an orphanage society in Oklahoma, or feeding dozens of stray cats daily in Ankara, Turkey. In 1988, she won Citizen of the Year for her "tireless efforts" to preserve the beauty and condition of life in Gig Harbor.
An avid reader, she was a longtime member of AAUW. A protestor for peace, she stood alongside her Women in Black companions every Friday. An advocate for the arts, she stood on the boards of both music and theater associations. A committed environmentalist, she co-chaired Citizens Against Litter on the Key Peninsula. An amazing cook, her table was a delicious feast of exotic flavors where everyone was invited.
Lois never met a stranger. She brightened every day with her radiant smile. Her spirit uplifted all those who had the good fortune to cross her path. Heaven has gained another angel.