Max and Sharlene Applegate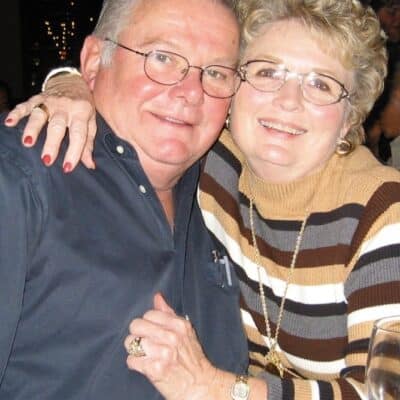 Born: December 5, 1935 Death: January 31, 2022 Funeral Home Details:
Washington
Remembrance of Max and Sharlene Applegate
It is with deep sorrow to announce the passing of Max C. Applegate on November 26, 2021 followed by V. Sharlene Applegate on January 31, 2022, both at the age of 86. Max passed away while visiting Brazil with family, while Sharlene passed just two months later after her years-long struggle with dementia. They were married for 67 years.
Max and Sharlene became high school sweethearts while attending Davenport High School in Oklahoma in the early 50's. Max was a star football player and Sharlene an award-winning Drum and Twirling Majorette and excellent student, both receiving scholarships to Tulsa University. Instead of college, Sharlene chose to marry Max and begin a family while Max played football and attended the University. After one year at Tulsa, they moved back to Davenport where Sharlene worked for the local phone company and Max in the oil fields while attending Oklahoma State University earning his engineering degree.
They had three boys and raised their young family in Wichita, KS, Huntsville, AL, Cocoa Beach, FL and eventually to the Seattle area while Max pursued a life-long career with Boeing. Both Max and Sharlene loved being very active, Max an avid hunter and fisherman and Sharlene an excellent athlete playing basketball and golf, while also continuing competitive twirling. They traveled extensively, loved boating and camping, visits with family and acquired decades of "adventures".
Eventually retiring from Boeing and settling in Canterwood Country Club in Gig Harbor, WA, they became avid golfers, bridge players and had a lively and active social life. Sharlene will always be remembered for her natural beauty and southern charm, her warmth and enduring love for "her boys" and her family. Max was a natural character, always regaling any audience with colorful stories of his life. They will always be remembered with love.
Max and Sharlene are survived by their sons Ricky and his wife Carrie, Mark and his wife Danna, and Larry and his fiancé Barbie Young, two granddaughters Ashley and Lauren Applegate and Sharlene's sister Gloria Mendenhall.
The family will gather in Wichita Kansas on June 17th, 2022 for a remembrance and to celebrate their life. They will be buried on June 18th at 10:30 am in the Applegate family plot in Augusta, Kansas.
In lieu of flowers, the family requests that gifts in memory of Max and Sharlene be made to the Alzheimer's Association (act.alz.org).