Thomas Bolton, 62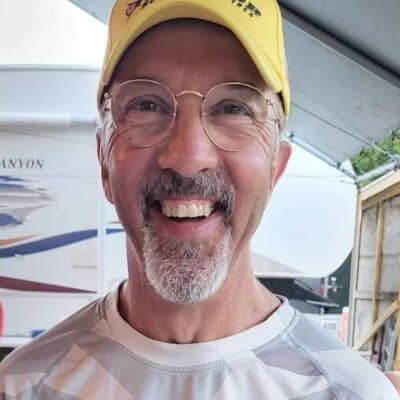 Born: August 31, 1960 Death: June 9, 2023 Funeral Home Details:
Legacy Funeral Homes
Address: 1015 S. Check Street Wasilla, Alaska 99654
Phone: (907) 373-3840
Funeral Home Website
Thomas E Bolton, 62, passed away June 9th while traveling from his home in Georgia to Alaska to visit his family. His cause of death was due to a single vehicle motorcycle accident on the North Klondike Highway driving through Whitehorse, Canada near Fox Lake.
He had recently retired and was on his dream motorcycle trip traveling cross country with his two riding partners when his accident occurred.
The community of Fox Lake were very kind, and their hospitality went above and beyond to Tom, Jeff and Bob.
A funeral service was held June 17th in Coolidge, Georgia. There will be a memorial service held in Palmer, Alaska on July 9th at the home of his mother and sister (and brother-in-law).
Tom was born on August 31, 1960, in Anchorage, Alaska to Roger and Marcia Bolton he was the second oldest of four. He graduated from Service High School in 1979. Tom loved his adventures and was very active in watersports, hunting and camping, with his favorite being his motorcycles.
He was a self-made carpenter and could build just about anything. He drove truck for most of his career, but did work for the Ken Peninsula Fire Department while living in Gig Harbor, Washington. Tom worked for many companies including Air Liquide, Homerun Oil, Lynden Transport, CH2M Hill and several more.
His final job which brought him to his retirement on May 19th , 2023 was with Scrugg's Concrete. His knowledge and ability to work hard with his hands was never wasted. He was always willing and ready to help a neighbor or friend in need.
Tom's love for his family was very evident and he never missed an opportunity to tell us he loved us and then went into detail on why. The only thing Tom loved more than his family was the Lord. He had a strong love and passion for God, and he stood very strong in his faith. Tom studied his bible and never passed up an opportunity to learn more about His word. Our family is at peace knowing that Tom is now in heaven with the Lord that he worshipped and loved so deeply.
He is survived by his wife, Lorrie of Coolidge, Georgia; his mother, Marcia Bolton of Palmer, Alaska, his two daughters, Kristy Johansson of Shelton, Washington and Janell (Russ) Smith of Lakebay,  Washington, stepdaughters Melissa (Garrett) Wilkins of Palmer, Alaska, Allison McKeever of San Diego, California, Emily (Jeremy) Snow of Anchorage, Alaska, brother Willie (Sarah) Bolton of Homer, Alaska;
sister, Louise (Biff) Franklin of Palmer, Alaska, sister, Valeta (Blake) Hitchcock of Riverton, Utah; His grandchildren, Norah and Easton Smith of Lakebay, Washington, Westin, Beckett and Dekker of Palmer, Alaska, Makayla, JJ, Bella, Isaiah and Howard of Anchorage, Alaska and many nieces, nephews, great nieces and great nephews in Alaska, Washington, Maryland and Utah. Tom is also survived by his many treasured friends. He was preceded in death by his father, Roger W Bolton, and nephew, Michael Biff
Franklin.