Editor's column: About that email newsletter … Gig Harbor Now does not endorse candidates
A technology glitch left many readers of the Oct. 14 Weekly Newsflash — our email newsletter — with the impression that Gig Harbor Now endorsed a legislative candidate.
As an independent, nonprofit news organization, we do not make political endorsements. We have not and will not endorse in the 26th District State Senate race, or any of the other political campaigns we will cover this fall or in the future.
However, this week's email newsletter certainly could have left people with the wrong impression. A headline in the newsletter reads: "Letter to the editor: Young offers action and common sense." While that headline clearly labels the item as a letter to the editor, the byline under it erroneously says "Gig Harbor Now Staff."

And that's the glitch. It wasn't written by Gig Harbor Now Staff, it was written and submitted by Robert Hartnett of Fox Island. Here's how it appears on our website:

This is a coding issue between our website and the software we use to generate our weekly newsletter. For staff members like myself, the byline field in the Weekly Newsflash item gets filled in properly. Here's an example from a story I wrote this week: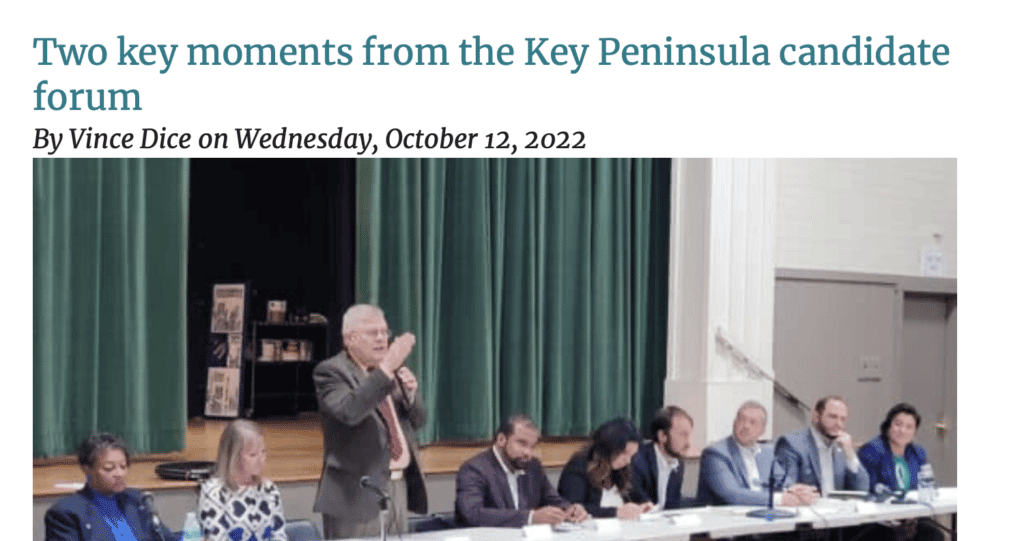 For non-staff members, like the letter writer, the email software defaults to "Gig Harbor Now Staff."
It's a glitch we've never encountered before today.
Some may also be wondering why the letter to the editor was the first item at the top of our newsletter. Up until now, the newsletter was automatically generated, with the most recently posted item appearing first. Mr. Hartnett's letter was the last item I posted to the website before the Newsflash's deadline, so it automatically moved to the top of the newsletter.
The key words in that last paragraph being "up until now." We'll get that changed by next week.
We have received several emails this evening from readers questioning why we are endorsing political candidates. Frankly, from the way this week's Newsflash looks, I understand why they thought that. I apologize for the problem, and we will do better in the future.
But rest assured, Gig Harbor Now has not endorsed any political candidate and will not do so in the future.
Vince Dice has been the editor of Gig Harbor Now since March 2022.