Inside Gig Harbor Real Estate: Tips for buyers and sellers
The housing market continues to show us that you can't time it perfectly.
Market snapshot
Interest rates have stabilized. We are currently in the high 5% range (at time of printing) for conventional/20% down.
Inventory continues to slide backwards. The number of homes on the market remains very low, while buyer confidence increases.
At time of printing, 89 homes and condos are for sale in Gig Harbor and 50 on the Key Peninsula. Pricing continues to be especially important and preparation is critical to making your home appealing to a buyer. Funds for repairs and updates are tight.
Overall, the market in balanced in all price points with leading indicators that it will heat up in spring. We will keep a very close eye on those trends as the rates will have a large effect on buyer activity and price.
The exception is price points of $1.5 million and above, which continues to lag behind. Unless it is very compelling, such homes are experiencing longer days on market and lower demand. This is still a buyers market (Note: Seasonally, this is not uncommon as inventory is low as well).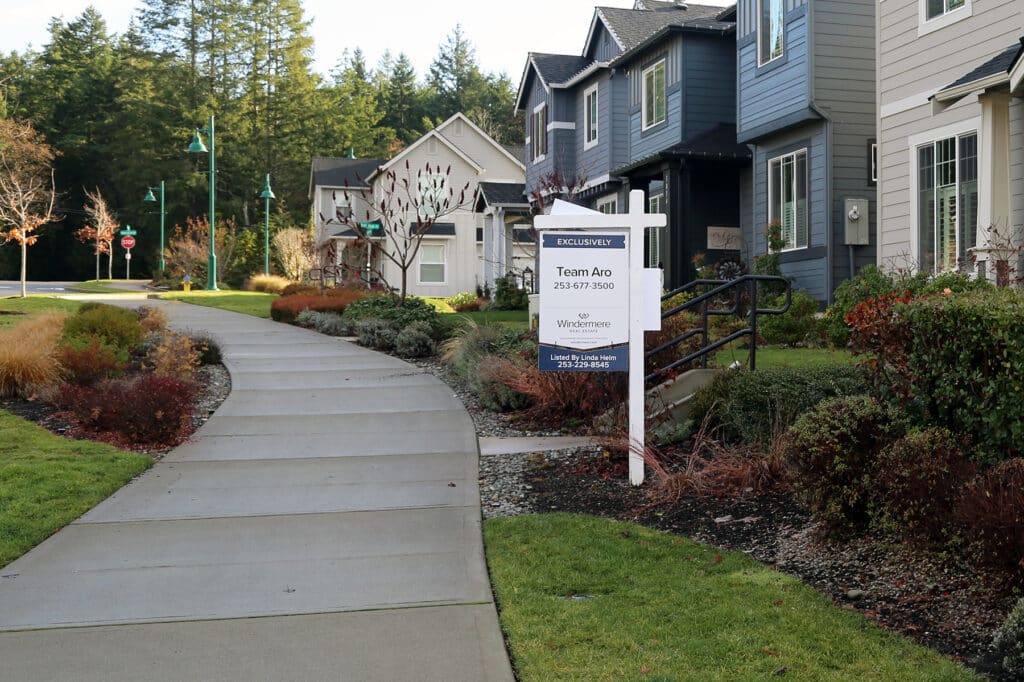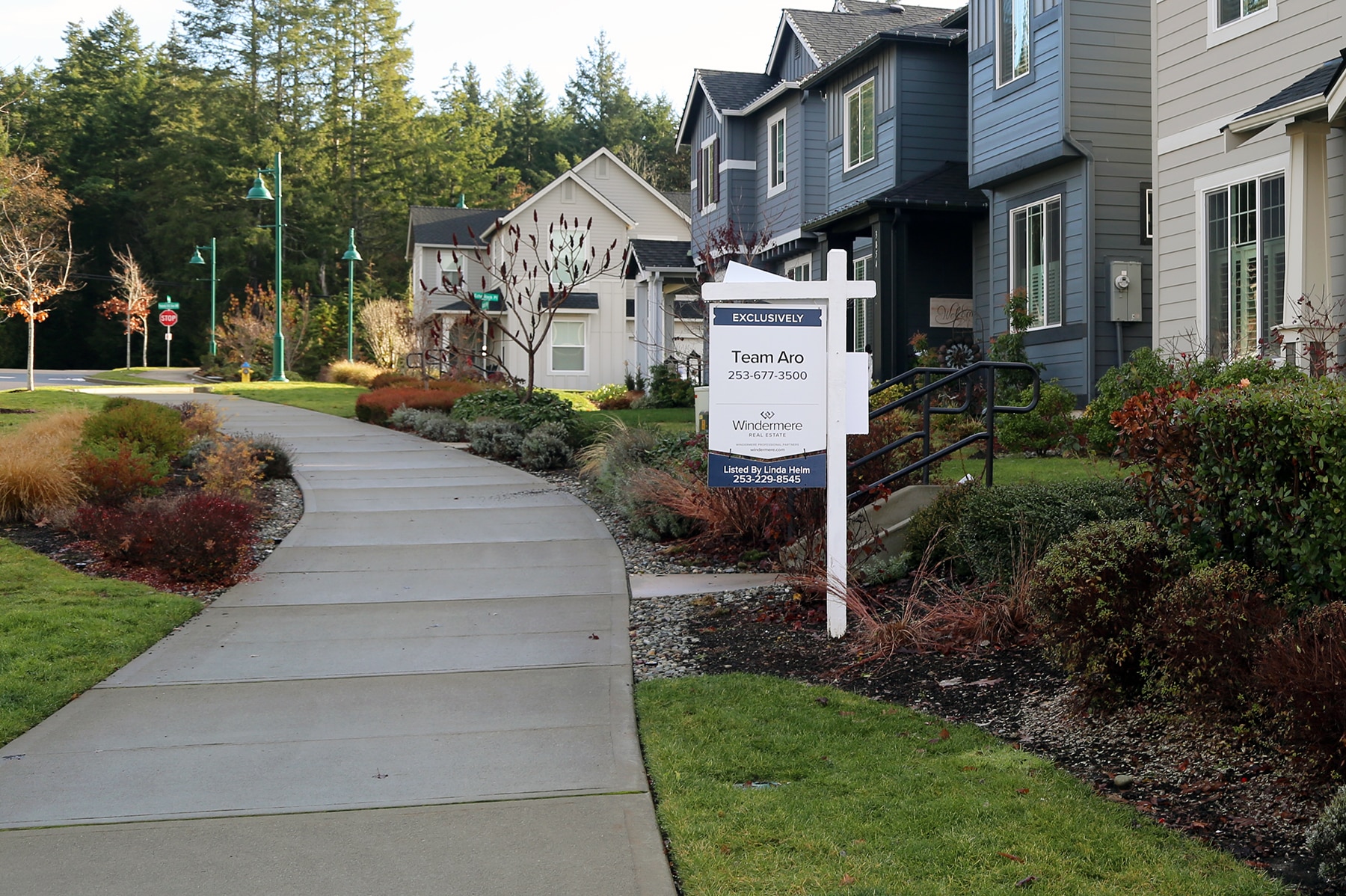 Three pro tips for buyers
1) Build your dream team
Hire a local agent to help you identify the home and community that fits your needs; and who understand the market based on your timeline so you don't over pay.
Your dream team also includes a local lender. Your lender and your agent will both come with relationships within the community. That will give you have a competitive edge with industry insiders — including other agents, contractors and inside information about things that are happening, like future plans for the neighborhood you are interested in.
"A local lender has a personal connection to the community you will call home," said Megan Higgs of Hometown Lenders of Gig Harbor. "With exceptional service levels, reputation and reliability, your home-buying opportunity and experience is not only personalized it is next-level care for all parties involved."
2) Get fully underwritten
Get fully underwritten with your local lender to get a competitive advantage against other buyers. Fully underwritten means that you do all the financing paperwork before you find your home; get fully approved with the lender; then just insert the home and get the appraisal. This can cut the time to close down to 10-15 days.
This will give your seller confidence in your financing, because you can now present a letter that says you are "fully approved for the purchase price." You can offer a shorter closing date to the seller, giving them better terms and possibly winning a multiple-offer situation without having to pay more for the home.
3) Know what contingencies to ask for
Do you need a well inspection, septic inspection, drainfield scope? A geo tech to look at drainage or high banks? What internet company has the best speed for working from home?
These are all important parts of doing due diligence. Out-of-area agents might not be familiar with the ins and outs in a market where they don't sell often.
"During COVID especially, out-of-area buyer's agents moved their buyers to remote areas of Gig Harbor and never checked on internet service for work-from-home clients to see if speeds could meet the needs of their client's lifestyle," notes Falynn Auston of Neighborhood Experts Real Estate in Gig Harbor. "Another big thing we are seeing now as inspections return is the connection to contractors and the ability to get them out to home on short notice. Those local relationships matter when we are on tight deadlines to make decisions on whether we terminate a contract due to inspection items and need professional opinions. As local agents we will have those relationships that can meet those deadlines for our clients."
Three pro tips for sellers
1) Hire a local, full-time agent
A local expert, who is working full time, will have physically been inside homes that are comparable to yours. Such an agent can help get you to that magic listing price that helps you get the most amount of money in the least amount of time.
Trust me when I say, over pricing in any market feels like catching a falling knife. A local expert will also know how to sell the neighborhood and overall city feel. For example, once I know the intricacies of your home and share them with buyers and agents, I also have stock piles of blog posts and videos of every school and the community to share them. Those videos and blog posts can be emailed to buyers and agents to help sell your home, Gig Harbor and what makes it special.
A modern, digital marketer will have back logs of information to help sell the lifestyle that your city provides and that your home is built in. Hiring a full time real estate agent in Gig Harbor will also ensure that you are protected. Northwest Multiple Listing Service forms have undergone major changes to the contract language in the last 18 months. A dedicated agent will have invested the time  to learn the new forms so you can protect your purchase and sale contract terms.
Finally, a local agent will have local relationships. They will know the other agents in the field; they will know the agents who have the buyers; and they will know from working with their own buyers what buyers are looking for and the temperature of the market. Understanding the local nuances will help you negotiate a sweet offer at a great price.
Bonus: A full-time agent will be more likely to be a great communicator if this is there only job, something that you want when you are selling your home.
2) Prepare your home for market
Because inventory is low and interest rates are higher, money is more expensive now. In the old market (when interest rates were under 3.5%) money was practically free. Buyers could afford more and have money left over for renovations.
Now it's more expensive and buyers have less savings. Your price must match your condition. Your agent must be knowledgeable to help guide you to a price that matches that expectation.
Three things matter when you sell your home: location, condition and price. Even if your home is perfect, buyers are scrutinizing your list price. If its too high, they'll come to see your home because there's not much else to see, but still ignore you until you come to your senses.
If your updates are too overwhelming for them to take on (and afford), and your home is underprepared (not clean and staged) and your price is high, they'll pass completely just from the photos online.
NO matter what your condition is, your agent should do EVERY THING to make your listing shine online. It all starts with the photos on that little phone screen. You want an agent who covers the cost of staging, professional photography and 3D online tours, and a lifestyle video. The lifestyle videos do so well on social media. That is a large part of exposure in the current mode of real estate marketing.
You want an agent who has the funds to cover these expenses and won't cut corners just because "it will sell anyway." That is simply not the case anymore, even with lower inventory. A full-time agent will be able to invest in your listing as a part of their business model.
3) Your agent must be a modern digital agent
They should be adept at marketing online. 96% of buyers are shopping online and utilizing multiple platforms to find homes to fit their needs.
A good agent can leverage the internet to market your home so much further than just using the NWMLS to syndicate to partner sites like Zillow and Redfin. Think Google, Tik Tok, Instagram, Facebook Groups, YouTube, blogging.
Broker tour and open houses help to make sure your home has access to the most number of buyers in the shortest amount of time.
Brokers who truly are there to market YOUR home, not just themselves, can go above and beyond with invites to broker colleagues in their sphere and email lists that have buyers who fit your ideal buyer avatar.
Your agent must be able to manage communication in a digital world. Showings are most often booked online through apps. Communication between agents is high-tech and quick-paced. Follow up is also key when working with other agents to find out what buyers loved about your home. A full time agent will take the time to call, text and email the showing agents to provide you with real-time feedback so you can understand how buyers are responding to your home and price in the market. That knowledge is power.
Final thoughts
Your agent should be someone you trust and "click with." Regardless of all the things. Trust is an important part of the conversation as you navigate through the process of buying and selling a home. There are some great agents that fit the bill of all the qualities above. Then it's just a matter of who you feel is the best fit for you and your personality? If you need to buy or sell a house, its a great time to do it.
In 2020, Paige Schulte was recognized by the Wall Street Journal for her use of virtual tours and digital media for buyers during the height of the Coronavirus pandemic. She was named 2022 Finest Realtor in Gig Harbor by Gig Harbor Living Local. Schulte is founder of the Neighborhood Experts Real Estate office located in Gig Harbor, she also sits on the board of her foundation ChelseaPaige Foundation that donates funds back to non-profit organizations in the greater Gig Harbor area.