Two in Tow & On the Go: Gig Harbor Youth Sports Guide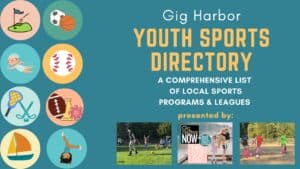 Now that Clara and Wyatt's prime childhood sport-team-ready age is here and I've started Googling "youth sports near me," I quickly discovered there's not one easy place to find all the options.
I also don't inherently know the difference between all the leagues and recreational divisions because not only am I new to town, but I'm also not really a sports person.
But fear not, sports newbies!
I've created the below go-to list so navigating how to get your kid involved in local sports will never feel like a chore again. In any case, this list serves as a starting point to put local youth sports programs in and around Gig Harbor all in one place. For those looking to continue their kiddos' youth sports journeys – or begin a whole new one.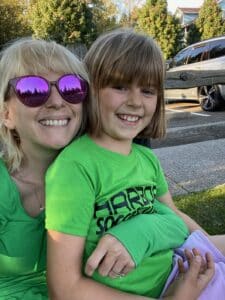 Call me crazy but I didn't realize the world of local youth sports signups was so … complicated. (Granted, I was not a sports kid growing up either. Which, of course, is a surprise to no one). Before our kids were old enough to join team sports, I imagined such a big-kid-milestone would involve us one day signing up them up any time of the year through whichever city we lived in. Easy peasy! 
Ha.
Turns out, there are various nonprofit and independent youth sports leagues – some competitive and some purely recreational – plus additional non-team/just training options, as well as studios, public and private businesses, and more. There are also quite a few youth sports offered around here that aren't mainstream.
I'll also note that I couldn't always find the age range or registration months required by every entity (or if I did they're really long and complicated), but I did go through the web pages of each listing to link the info of each I found to be the most helpful, as well as any contact info (and its Facebook page) so you can ask your own questions based on your fam's individual circumstances.
YOUTH SPORTS DIRECTORY
---
LEAGUE NON PROFITS & CLUBS
"Our club offers youth soccer opportunities at all age levels and competitiveness, in an environment designed to encourage development and fun." Offers four programs: Micro Soccer for ages 4 to 5/practice starts in August/Sunday games in September and October/all play in Gig Harbor; Small-Sided Soccer for ages 6 to 10/play in the Pierce County Soccer Association League, with away games throughout Pierce County/practice, begins in August with leagues games in September, October and November/games on Saturdays; Club/Recreational soccer for ages 11 to 19/for the player wanting to compete at a competitive level yet with a lower commitment in terms of time and fees/practice begins in August with games in September, October, November, and December/games are on Saturday or Sunday; Premier Soccer for ages 10 to 19: year-round program for boys and girls/staffed by professional coaches/ tryouts take place in February for high school-age boys and late-April/early-May for all other age groups/training resumes immediately after tryouts/summer tournaments throughout the state and region, Washington Regional Club League (RCL) games in the fall and spring, and WYS State Cup in late spring.
Facebook: @HarborSoccerClub
"Established in 1996, Gig Harbor Little League is a nonprofit organization (that) offers a fun, supportive, instructional and competitive experience for boys and girls ages 4 through 16 residing in Gig Harbor."
Facebook: @gigharborlittleleague
"PYFC's core values are safety, teamwork and skills. Safety is the number one priority, skills are taught in a fun and safe environment, and life-long friendships are built on trust through the love of football and cheer.
For 2nd through 8th grade athletes, PYFC is a parent-run non-profit organization serving Gig Harbor and Key Peninsula for 45 years."
Facebook: @PeninsulaYouthFootball and @peninsulayouthcheer
"An independent nonprofit organization created to promote youth sailing through a summer camp for kids and teens. Our goal is to provide access to sailing to girls and boys, ages 6 to 18 with no sailing experience up to racing level sailors."
Facebook: @GHYCJuniorSail
"Teaching wrestlers (ages 4 -14) to be self-confident, determined, and assertive."
Facebook: @pywcougars
"The Grizzlies Wrestling Club is (a) youth wrestling team in Gig Harbor. Check us out!" Part of the Pierce County Junior Wrestling League for southwestern Washington youth ages 5 to 12. For a list of chartered USA Wrestling Clubs, search here. 
Facebook: @WGWC.club
*Linked the Grizzlies' listing on the USA Wrestling/Washington State Wrestling Association's website since www.washingtongrizzlieswrestlingclub.com doesn't appear operational at this time (but here's a 2019 screen grab of that site's 'about' section). Club contact info is also linked on the Grizzlies' Facebook page.
These two lacrosse groups were one association until 2014 when they split into two separate entities. Players now join one of the two associations based on where they live within the high school boundary map for Gig Harbor High School and Peninsula High School, as set by the Peninsula School District.
The Gig Harbor Lacrosse Association (the Tides)  – organizes teams for big kids to teens, serving both boys and girls. The boys are in 3rd to 12th grade living in the Gig Harbor High School boundary, and the *girls are in 3rd to 8th grade living in the Gig Harbor High School and Peninsula High School boundaries. GHLA is a member of the South Sound Youth Lacrosse League, Washington High School Boys Lacrosse Association, and the Washington School Girls Lacrosse Association. *For girls in grades 9th to 12th at Gig Harbor High School and Peninsula High School, the Peninsula School District offers one merged girls lacrosse team, the "Riptides," as a school-sanctioned sports team.
Peninsula Lacrosse Association (the Seahawks) – organizes teams for boys only, serving little kids to teens in Kindergarten to 12th grade living in the Peninsula High School boundary. (All girls within the Peninsula High School boundary go to Gig Harbor Lacrosse; then to Riptides girls team). PLA is a member of the South Sound Youth Lacrosse League and the Washington High School Boys Lacrosse Association. 
Facebook: Gig Harbor Lacrosse Association
Facebook: Peninsula Lacrosse Association
(Tacoma)
"Puget Sound Speedskating Club (PSSC) (trains) on the ice at our home rink, Tacoma Twin Rinks, and dryland train in or indoor facility or at nearby outdoor athletic fields. We have members of all ages (from 6 to 60) and abilities. We participate at club-level competitions in Washington and British Columbia, ISU and US Speedskating events around the US, and have skaters who compete around the world with Team USA."
Facebook: This club has a Facebook group.
"Harbor Aquatics Club … is designed to provide a competitive team that prioritizes fun and safety while developing athletes of all levels to reach their maximum potential. All swimmers must be registered with USA Swimming. Swimmers must be at least 8 years old, be able to swim at least a 25 freestyle with side breathing without stopping or assistance and swim a 25 backstroke without stopping or assistance. (The league) is designed to bridge the gap between swim lessons and swim team. (Aims to teach) foundational swim skills, build endurance, and help build a love for the sport of swimming. Swimmers must be at least 8 years old, be able to swim at least a 25-freestyle with side breathing without stopping or assistance and swim a 25- backstroke without stopping or assistance. Must also register with USA Swimming after registering with Harbor Aquatics Club.. 2023 registration opened March 21 for Harbor Aquatics' Summer League Swim Team. This 5-week program for ages 8+ runs from 3 to 4 p.m. Tuesdays to Fridays from June 27 to July 28 at the Peninsula High School pool (14105 Purdy Dr., Gig Harbor)."
Facebook: @harboraquaticsclub
Narrows Swim Club (NSC) is a branch of the Narrows Aquatic Association (NAA). We accept ages 4-18 in our competitive swimming program but really it's more about ability and desire to improve. … so while athletes need not be elite level to join, our workouts are challenging and we expect all our athletes to work hard and improve every day. Meet at Gig Harbor High School for senior and intermediate groups and Peninsula High School for novice swimmers and intermediates with a novice sibling.  In general, we look for athletes to be able to complete 25 yards of each of crawl stroke and backstroke without stopping or (has met) Peninsula School District lesson level 7."  Evaluations are available by emailing [email protected].
Facebook: @narrowsswimclub
"Engages in promoting, teaching, and fostering the sport of artistic synchronized swimming. … Offers age-specific training for all of our athletes geared towards challenging each individual and developing each swimmer to the best of their abilities. If you are interested in trying this fun exciting sport, click (here) to sign up for your free lesson." Classes are offered in Federal Way, but team members live throughout the Puget Sound, including Gig Harbor.
Facebook: @pacificwavessynchro
"Narrows Water Polo has been in operation since 2012 providing opportunities to the greater Gig Harbor and Peninsula area youth. …Program for kids aged 10 to 14 to learn the fundamentals of water polo. Email [email protected] to arrange a free trial. We require that kids entering our program can swim 25 yards comfortably.  If they cannot do that, we recommend swimming lessons either through PSD or the YMCA.  If they can swim, it is still likely that they may have to work on their swimming. We offer co-membership with Narrows Swim Club, where they can attend swim practices on the off days.  All our members must be registered members of USA Water Polo. You can obtain a free 14-day membership to USA water polo on their website."
Facebook: @NarrowsWaterPolo
"Puget Sound Polo provides year-round water polo training and competition to athletes in the PNW. We offer co-ed 10u, 12U, and 14u for grades 5th to 8th; as well as high school boys and high school girls programs. Practices take place at the Curtis High School Pool, 8425 40th St. W, in University Place. Teams compete locally, regionally, and nationally every year at the USA Water Polo Junior Olympics. We are a registered USA Water Polo Club, (Club No. 64). The PSP youth water polo program is designed to get kids excited about water polo.  The program is for grades 5th to 8th and athlete experience often ranges from first-timers to 3- to 4-year veterans in the sport. A youth polo practice typically includes … swimming and treading technique, ball handling, shooting fundamentals, offensive and defensive schemes and tactics, and a scrimmage or competitive game at the end.  Athletes are often divided into 2 to 3 groups depending on their physical strength, experience, and knowledge of the game. Submit the join form for more information.
April 2023 – June 2023
"PGA Jr. League is changing the way golf is learned and played through its fun, team-oriented approach. Boys and girls of all skill levels learn and play the game with expert coaching and guidance from PGA/LPGA Professional Captains, wear numbered jerseys, and compete on teams with friends in a two-person scramble format that encourages mentorship and builds confidence."
Browse Gig Harbor groups here or check out the following locations:
Canterwood Golf & Country Club: "PGA Junior League featuring a mixed gender team of 7-13-year-old (s). Some (beginner to beginner plus) golf experience and/or previous junior league experience required."
Gig Harbor Golf Club "(Brings) boys and girls ages 7-13 together for a fun, team golf experience. GHGC offers expert coaching, with teams open to players of all skill levels, and no golf experience required. Kids can expect to learn and play the game in a relaxed scramble format that builds confidence and encourages mentorship among teammates. This is the 2nd season here at GHGC and we will continue to grow and develop into a staple junior golf program on the Olympic Peninsula."
Facebook: @PGAjrLeague
Spring, Summer, Fall, and Winter sessions, ages 5-17 | "First Tee: South Puget Sound positively impacts the lives of young people by providing educational programs that build character, instill life-enhancing values, and promote healthy choices through the game of golf." South Puget Sound golf courses partner with the program to serve as "learning centers" for First Tee participants. The closest is Madrona Links, in Gig Harbor and Chambers Bay, in University Place.
Facebook: @FirstTeeSPS
"The mission of Tacoma Rockets is to teach the members of the community the sport of ice hockey, developing team play and individual skills through clinics and team competition by emphasizing sportsmanship, cooperation, fun, self-discipline, self-confidence, and respect for others. Tacoma Rockets also strive for the highest level of customer service to the membership to maintain and ensure the growth of hockey in the Tacoma and surrounding area. Tacoma Rockets offers a hockey program for ages 4–18 at all skill levels. Current Youth Hockey Programs: Rockets Launch Pad (Learn to Play Hockey), Recreational Teams, and Travel Teams."
Facebook: @PSICESPORTS
Equestrian Vaulting team/American Vaulting Association Club, Region III. (Other AVA Clubs listed here.)  "Vaulting is a unique and growing sport that combines dance and gymnastics on a moving horse. It's a wonderful way to develop coordination, balance, strength, and creativity while working in harmony with the horse." – Equestrian Vaulting USA (a nonprofit that works to promote and raise public awareness for the vaulting sport. 
Harbor View Vaulters meets at Four Winds Riding Center, a facility that also offers riding instruction in the northern Key Penninsula area."Four Winds Riding Center lessons are available by appointment only. Contact Cassie Draper at (253) 514-9366 to check availability."
Facebook: @eqvaulting (Harbor View Vaulters team)
Facebook: Four Winds Riding Center
---
OTHER/STUDIOS/BUSINESSES 
Possible options in Soccer, Basketball, and T-ball: YMCA youth sports vary per location and age group. Use the Activity Finder to see what's available at your local Y. A membership to the YMCA is required for any youth athletics signups and class registration. 
Facebook: @ymcapkc
"Engage in competitive swimming with a goal-focused emphasis. Swim team participation promotes sportsmanship, self-esteem, self-discipline, self-improvement, and social interaction. Offers training and practice groups for swimmers of all ages and ability levels … geared toward challenging each individual and developing each individual to the best of their abilities." In network with YMCA regional and championship competitions. Call 253-534-7858 for tryouts, or send this form for more information.
Facebook: General Tom Taylor FB account
RELATED: March 10 2022 news article on the Tom Taylor YMCA Seals Swim Team.
"AGA Northwest is a premier gymnastics school offering classes and teams for boys and girls 6 months old to 18 years of age."
Facebook: @agagigharbor
Recreational and competitive. "In our recreational program, we teach our gymnasts basic skills that progressively build fundamental shapes, flexibility and strength. They also learn to build their self-esteem and to set and reach goals. They will be introduced to all events including Bars, Balance Beam, Vault, and Floor, as well as tumble track and rope climbing. Our program is skill-based. Each gymnast graduates to the next level when they have achieved the required skills."
Facebook: @NASAGymnastics
"Our professional faculty gives students an arts-based curriculum with a holistic approach to dance. (Serves a) variety of ages, levels, and styles (in) a safe environment to build a dancer's artistry and empathy." Options in ballet; jazz/lyrical/multiform; tap; hip hop; broadway musical theater; and acrobatics. 2023 Calendar PDF. Also operates the Freedom Dance Center in Tacoma for South Pierce County clients, offering hip hop; jazz; contemporary; progressions turns and leaps; and ballet.
Facebook: @harbordance
"Our youth program is divided into several teams to accommodate different ages and skill levels. Each team has its own practice schedule and coaching staff. Each group level practices multiple times a week. Practices are held at Skansie Brothers Park and Ancich Waterfront Park in Gig Harbor. Practices take place year-round. Youth new to the sport should participate in one of our annual Summer Camp programs."
Facebook: @GigHarborCanoeKayakRacingTeam
Family-owned facility established in 2019 offering "horse riding lessons, pony camp, private lessons, and group lessons for two to three riders at a time." 2023 Summer Riding Camp is recommended for children who want to learn more about horses and/or are currently in a beginner to intermediate riding program. Each camper will learn or advance on their skills and knowledge about caring for a horse, riding different horses, learning about horse communication, and do horse-related games, scavenger hunts, crafts and water activities. Info: [email protected]."
Facebook: @foxislandequestrian
Grand Farms Riding Academy introduces beginner riders to horses and equestrian sports to all ages and skill levels, offering Pony Pals for riders aged 3 to 5 years; and four levels of Intro to Beginning Competition. Students learn about horsemanship, riding, and tack care. Training also offers the English riding disciplines of dressage, where horses perform precise and graceful movements in response to subtle cues; jumper and hunter techniques for clearing obstacles with speed and agility; and cross-country horse riding for endurance (XC). Competition opportunities through Grand Farms Team Chaos. The academy is located at 12604 189th Ave. in Gig Harbor, near Vaughn. Call Jessica at 360-558-9469; or fill out the form on the academy's website.
Facebook // Team Chaos
"Warrior Life is a martial arts school dedicated to improving the confidence and well-being of people regardless of age, gender, faith, nation or any arbitrary 'ism' — Welcome! Grow stronger, more confident and capable at Gig Harbor's finest martial arts school. Our instructors bring out the best in students with broad ranges of experience and fitness. Contact us today to start your free trial and experience it for yourself." Check out the Warriors' Ninja Rangers and Youth Jujitsu program.
Facebook: @Warriorlifema
Lee's SUP + Kayak Rental, Kids Program
Kids age 8 to 14 get "SUP, hybrid and kayak day camps. Program highlights include having fun while improving water safety, cooperation and developed paddling skills while building confidence on the water … a wide range of activities and experiences that will encourage children to get out of their comfort zone and learn something new. We provide an awesome engaging program for all our campers, no matter their interests or level of experience."
Camps run 9 a.m. to 2 p.m., Monday through Thursday from June 27 to August 25
Facebook: @LeesSUP2
---
PUBLIC REC AGENCIES
"We are proud to offer recreational sports programs where participants will gain life skills both on and off the field, build friendships, and make memories that will last a lifetime. Below you will find Flag Football, Basketball, Soccer, Baseball, and more, with registration being open based on the season. Volunteer coaches are required for programs to operate."
Facebook: @PenMetParks
PenMet Parks Youth Sports Leagues and Programs:
Basketball (info)
Our recreational basketball leagues for boys and girls inspire future generations to learn and grow through the game of basketball. We are dedicated to having our youth make championship choices on and off the court while learning the values of community, leadership, and character development through the game of basketball in a fun and safe environment.
Baseball (info)
Recreational leagues for boys and girls from Pre-K to 8th grade; spring 2023 youth recreational baseball league.
Soccer (info)
Recreational leagues, for boys and girls in grades PreK-8th, create a family-friendly environment where your child can grow and develop not only their soccer skills but their leadership and social skills for life. Registration opens June 1st at 9 am! If you are interested in coaching please reach out to [email protected].
Flag Football (info)
Offering a fun, non-contact football experience for boys and girls grades Pre-K to 8th. We strive to provide unmatched standards of safety, education, and support. Our program imparts great lessons, providing skills that serve kids well throughout their lives. Registration opens July 11 at 9 a.m. If you are interested in coaching please reach out to [email protected].
"We are an independent government agency creating healthy opportunities to play, learn and grow since 1907." Options:
Facebook: @MetroParksTacoma
Metro Parks Tacoma Youth Sports Leagues and Programs:
Baseball and Fastpitch:
Mini T-Ball: Ages 3-6
Community League: Grades K-6. Register: Apr 3-24, 2023.
Games played: May 13-June 24
Basketball:
Mini Ballers: Ages 3-6
Clinics/Instruction: Ages 4-12
Community League: Grades K-8
Football:
Clinics/Instruction: Ages 4-12
Community League: Grades K-8
Golf:
Clinics/Instruction: Ages 4-12
Golf at Meadow Park: Ages 7-17
Mini Sports: 
Ages 3-6 will get an introduction to the basics while having fun in 4-week sessions.
Soccer:
Mini Soccer: Ages 3-6
Community League: Grades K-5
Volleyball:
Grades 3-8. 
Youth Rowing:
Ages 11-17
---
RELATED
Here are some companies that offer sports-related skill-building sessions or recreation for kids:
A large array of different kinds of sports and sports activities at different locations, all searchable. "Skyhawks programs are designed to give each child a positive introduction into sports while fostering a lifelong love for an active, healthy lifestyle." (Find your location here – use the dropdown menu for locations and sports)
Note: In July, Skyhawks Sports is offering a class through PenMet featuring Dodgeball, Capture the Flag, and ultimate frisbee. Wyatt will be so excited because he asked me last month if he could join a Dodgeball team. 🙂 
"Redline Athletics is a national sports performance brand for all athletes 8-18 years of age. Athletes of all ages and abilities – from emerging to elite – will be challenged and pushed to improve through sessions such as: Activation & Movement Prep; Dynamic Warm-up; Speed & Agility; Strength & Power and Mobility & Injury Prevention."
---
Sports we've done here
Our youth sports journey in Gig Harbor began with YMCA soccer last year when Clara was 8 and Wyatt was 6. Bowen and I signed them up for spring soccer through the Tom Taylor Family YMCA location in Gig Harbor. The Y is a nonprofit, monthly membership-based center that offers adult and kid programs, but also seasonal youth sports teams for an extra fee.
We heard about YMCA soccer only because we were already in swim lessons there. YMCA soccer was fun. We liked it because it was laid back. We didn't have to travel for games because it's not part of a league and all the different YMCA kids would scrimmage together. All the games were at Kopachuck Middle School and families would flood the fields with sideline rows of cool slouchy camping chairs and coolers and sit there all day if multiple sibling players were involved. I generally like a chill vibe more than a competitive one, but from a PNW weather standpoint, spring soccer is generally pretty cold and wet.
After chatting with the other YMCA soccer families, we learned that Harbor Soccer Club was another youth soccer option around here, so we signed the kids up for that the following fall. Harbor Soccer is part of the Pierce County Soccer Association League and it has away games throughout the county. I think the farthest we went was Puyallup. Just this week, I registered the kids with Harbor Soccer again for fall 2023. There are a few different youth programs/team types there, one of which goes year-round! We do the "small-sided recreational" program for ages 6 to 10. Practice begins once a week in August with Saturday games from September to November.

Our third youth sports experience is currently with PenMet Parks as Clara and Wyatt try baseball/softball for the first time at ages 9 and 7. Wyatt is on a T-ball team and Clara is on a Coach Pitch team. I don't know if PenMet calls them softball or baseball because the teams are all co-ed. I leave you sports people to hash out that vocabulary 🙂
See ya out there!
---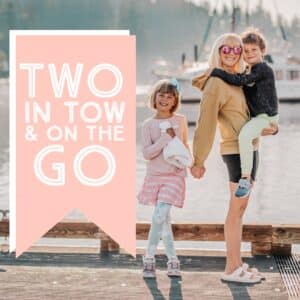 Tonya Strickland is a Gig Harbor mom-of-two, longtime journalist, and Instagram influencer in the family and travel niche. Her blog, Two in Tow & On the Go, was recently named among the 10 Seattle-Area Instagram Accounts to Follow by ParentMap magazine. Tonya and her husband Bowen recently moved to Gig Harbor from California with their two kids, Clara (9) and Wyatt (7). When they're not adventuring, Tonya stays busy navigating how umbrellas are unacceptable life choices now, giant house spiders exist but only in September, and that salted parking lots are absolutely not weird at all. Find her on Instagram  and Facebook  for all the kid-friendly places in and around Gig Harbor.