Two in Tow & On the Go: Get to know Crescent Creek Park
Editor's note: Today we debut a new, twice-monthly recurring feature by Two in Tow & On the Go, aka Tonya Strickland of Gig Harbor. The column will mainly focus on fun, educational and engaging places in the area for families. Some will be re-prints from the excellent Two in Tow & On the Go blog, and some will be original stories for Gig Harbor Now. Read on!
---
Hey, guys! The new year is officially upon us and I'm excited to be writing my very first column in Gig Harbor Now to share all the local places to take kids in 2023.
But, before we move forward, let's take a quick look back.
Way back.
All the way to 1915 – when the site of Gig Harbor's present-day Crescent Creek Park began to take shape with humble beginnings as a homesteader schoolhouse and student playground.
Located on the northeast side of town, that school site (or just a smidge west of it), evolved to become what the City of Gig Harbor says is its first City Park. Late last year, the Gig Harbor City Council approved plans to study improvements at the park. So let's look at what's already there and why this modern-day playground is one of our favorites.
The Maritime PlayZone's imaginative (and inclusive!) boat-shaped Captain's Gig play structure, an orange-and-white spinning buoy my kids can't get enough of, and a fascinating rock thing to climb on are among our list of cool things here.
Fun Facts:
It's a longtime gathering place. News reports dating back to the 1950s say the park was home to community ice cream socials, an annual children's fair with Bingo games, and countless community events. How cute is that?
Tired parents everywhere can rejoice at its fenced (and mostly gated) upper tot lot separate from the main playground. Perhaps the existence of a simple wooden barrier isn't the most exciting feature for everyone. But as someone who regularly fled to parks for sanity when her kids were ages 1 and 3, I can say with well-seasoned mom certainty that any place in which our tiniest humans are effectively corralled is officially the coolest ever.
---
Fun Features:

"Seaform"
That cool 'rock thing' (as I so eloquently put it, lol) is the late artist Oliver Tiedeman's 8-ton concrete climbing sculpture from 1975. This fun fact was mentioned in a Nov. 24, 1975, clip of The Tacoma News Tribune where the artist described his piece, titled "Seaform," as something meant to be explored from all directions. It was crafted in the curvy and cave-like likeness of mollusk formations often found in snails and seashells.
(Sidenote: If I ever sculpt anything, I'm totally going to make it in concrete. This thing sure looks good 47 years later, don't you think??)
Maritime PlayZone
The park's Maritime PlayZone, which debuted in 2014, features a big boat to celebrate the city's fishing heritage. Its design is both innovative and inclusive! Kids can lead the way by steering a wheel up front (that's walkup and wheelchair accessible), scout out tactile barnacles at wheelchair height along the outside, and enjoy space to explore (and play pirates!). Inclusivity-wise, the playground also boasts a whole row of swings, including a molded harness seat with a structured back.
Tot Lot Fence
Today, in the park's gated tot lot area, there's an extra large sandbox with lots of little scooping and building toys next to a pint-sized dome climber. And, yes, my beloved fence, too.
The barrier features a short chainlink style with wooden posts and two entry/exit areas. The access point off the sidewalk from the parking lot has a partial opening. The second opening features a short chainlink gate that's padlocked shut with a chain. Or, at least it was when we visited the park in fall 2022.
The History
The city has a great website detailing the park's history. The 1915 Crescent Valley School featured a two-story building that served what I can't help but imagine
was a roster of cute little homesteader children in puffy trousers and frilly white smock dresses.
The schoolhouse retired in 1942. Its students ventured off to new locations as the city grew and school district lines shifted. In 1948, Peninsula School District gifted the site to the city for the official Gig Harbor City Park. In the 1990s, the city park was renamed Crescent Creek Park to reflect the natural waterway alongside it. Meanwhile, a masonic lodge moved into the schoolhouse building.
When I first read about the school, I figured the building was long gone. But to my delight, it still stands just east of the park's present-day parking lot. It's once again used by students — this time as Gig Harbor Cooperative Preschool– but just in the basement. The area's neighborhood alliance established a National Wildlife Schoolyard Habitat there as well.
The old Harbor History Museum blog has a wonderful black-and-white photo of the schoolhouse, which features a clear visual of the building's former fire escape. The city's park history page describes the emergency feature as a student favorite in its earliest years:
"… children enjoyed fire drills as they were allowed to slide down the chute-style fire escape from the upper floor."
Well, there you have it, folks: all our favorite things about this historic park, what to look for there, how one concrete mollusk stood the test of time and invites you to climb on it, and a bunch of fun history facts to tell your kids about. (Update: check out this May 2023 story about the fate of the old school/masonic lodge).
See ya out there!
---
If you go: Crescent Creek Park
Address: 3303 Vernhardson St.
Run by: The city of Gig Harbor
Features: Restrooms, covered picnic areas, rentable space for birthday parties, two play areas, a nature walk with educational signage, public art, and plenty of parking.
---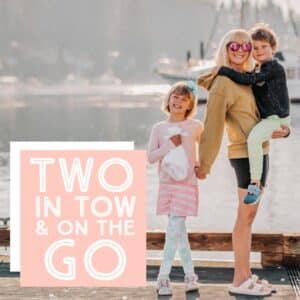 Tonya Strickland is a Gig Harbor mom-of-two, longtime journalist, and Instagram influencer in the family and travel niche. Her blog, Two in Tow & On the Go, was recently named among the 10 Seattle-Area Instagram Accounts to Follow by ParentMap magazine. Tonya and her husband Bowen recently moved to Gig Harbor from California with their two kids, Clara (9) and Wyatt (7). When they're not adventuring, Tonya stays busy navigating how umbrellas are unacceptable life choices now, giant house spiders exist but only in September and the reality that salted parking lots are absolutely not weird at all. Find her on Instagram and Facebook for all the kid-friendly places in and around Gig Harbor.