Two In Tow & On The Go: Ahoy Kitsap Playland is worth the drive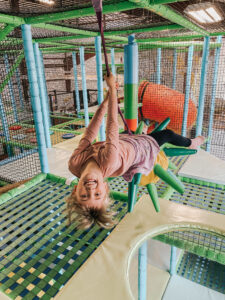 I know of a magical place where the little kids go, but the big kids secretly love playing there too. Children can climb, and spin and meet new friends. And it doesn't even require a jacket, even in jacket weather.
This place is Ahoy Kitsap Playland, a padded indoor commercial play place that's widely popular yet doesn't ever seem too crowded. Yes, it's all the way north in Bremerton. But you get to pass the big Navy ships on the way there!
Located at 5934 State Highway 303 NE, Ahoy Kitsap is laid out in one large space with tall ceilings a New York classic industrial loft vibe. Not that its design is plain. It sports a great pirate and sea life theme throughout, complete with murals and matching accents leaning in on green and blue tones instead of the typical primary color bonanza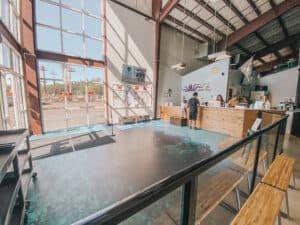 other kid places take on. The different play areas include a soft climber like McDonalds had — but multiplied by 4 billion; a fenced-in toddler zone; a Virtual Reality Arcade for video gaming; a snack bar, a birthday party room and a ton of bistro tables and seats in the middle area.
When you walk into the building, you pay admission at the register, sign a waiver, and then you can literally just play there all day. They ask you to remove you shoes and wear socks, or you can buy some. There's a handy shoe cubby at the entrance by the benches.
Ahoy Kitsap celebrated its 7th anniversary this week and was nominated for three Kitsap Community Choice Awards: Best Birthday Party Venue, Best Family Amusement and Best Local Tourist/Seasonal Attraction by the Kitsap Sun. I could see this versatile location winning all the categories because it's clean and attractive, surprisingly bright and airy unlike other indoor play places of a similar nature, and — my fave — has a ton of seating for mom and dad. The snack bar is also a plus. (See ya later, kids! I'll be over here with my feet up and sipping any icy beverage!)
Ha. I wish! Somehow these tiny humans of ours still need things from me every few minutes. It's like I'm a mom or something 🙂
---
A Look at Ahoy Kitsap:
According to my iPhone photo album, we've visited Ahoy Kitsap twice. Once in spring 2022 and again in summer 2023. I could swear there was a third time, but I can't imagine a world where I didn't take pictures on a kid outing. We also have the venue on lock for Clara and Wyatt's dual birthday in December.
FUN FACT: These little Sagittarius sibs are exactly one year and 362 days apart, so Bowen and I wore the "two under two" badge for a whole three days. And we wore it proudly.
Speaking of age, the Ahoy Kitsap website says as a whole destination, playtime there is suitable for babies to big kids — and even teens. Except, the different play areas each have their own specific age ranges. For example, it appears the play structure cuts kids off when they turn 13. In a fun twist, though, those newly minted mini teens can mosey on over to the pretty impressive Virtual Reality gaming area adjacent to the play structure. It costs extra to play there, and it's designed for players age 7 -plus.  But with multiple large screens, five gaming units and 50 games to choose from, the area is a hit with families. Even parents can play! (Only if their kid is playing VR too, though.)
Virtual Reality Arcade
---
---
The Location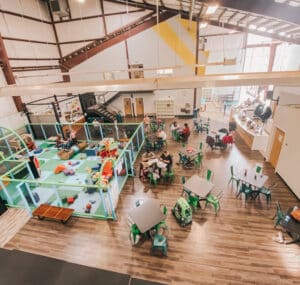 It's nice that the owners continue to make improvements over the years. In fact, the company's 'About Us' page tells the story of how Ahoy Kitsap Playland began as "Play Kitsap" in 2012.  It looked way different then with its dark grey checkered office carpet and indoor bounce house setup in all the primary colors. The story goes on to say that the venue "quickly became a popular spot for families of young children to come play, relax & have fun." Then, in October 2015, two folks named Rhonda and Angel Koh took over Play Kitsap and changed its "inflatable play center" business model to the indoor children's playland of slides, padded stairs and obstacle courses we know and love today –  Ahoy Kitsap Playland. It even says that "during the COVID-19 Pandemic, Ahoy Kitsap Playland continued to transform in order to stay open and added a Virtual Reality Arcade and new snack bar in 2021."
---
The Playground
---
The main play structure here is called a playground, but it's not like any playground you've encountered at an outdoor park. Think of it more as like a tall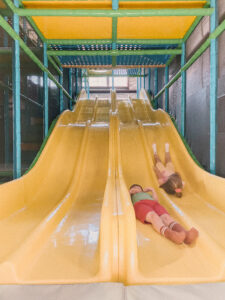 series of climbing platforms, net bridges, and tube tunnels with fun slides to scoot down before running back up to the top again. Some of the soft play equipment includes foam circles to tip-toe across like rocks in a creek, an epic bright yellow fiberglass wave slide that Wyatt reminded me to tell you about, a separate twisty slide, towers divided up with stacks of net flooring like layers in a cake, and various contraptions in which to swing, sway and spin.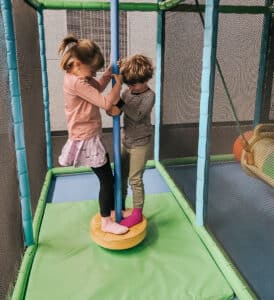 The sign on the soft play structure says kids must be at least 3 years old to play on it. That's fair. Because you could definitely lose sight your smallest kiddos once they clamber up up up the padded stairway into the different twists and turns. Luckily, I've totally climbed up into the structure myself on more than one occasion. So even if you lose sight of your aged 3+ kids, you can catch up to them pretty quickly.
Here are a few more pictures, including the separate tot lot made for toddlers. We're already aged out of that one so I can't speak to its fun factor, but I am looking forward to hear what the kids' friends younger siblings think of it at the birthday party.
Speaking of, stayed tuned for my newest Two In Two Guide here at Gig Harbor Now. Guide #2 will list cool local spots for kids birthday parties!
(My first guide focuses on local youth sports offerings, and I still add to it every month.)
---
The Food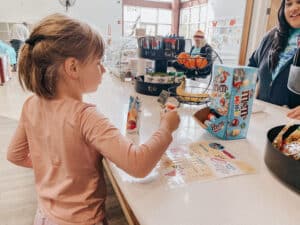 That snack bar is pretty cool. Clara loves ordering chips there and Wyatt is aways a fan of chugging down a cold drink. The prices aren't outrageous. Its menu boasts easy kid foods like hot dogs, grilled cheese, a "Sunbutter" and jelly sandwich (Ahoy Kitsap is a peanut-free facility), nachos, ice cream, and candy for sale. It's also stocked with college-me's favorite — Cup of Noodles!  Across the room, folks can even buy booze at a separate counter.
Writing about all this food stuff reminded me of the one thing I'm not a huge fan of — and that's it's no outside food policy, even if you have allergies. As someone who is allergic to gluten, that rule is always worrisome. But there's a huge info page on the Ahoy Kitsap website that goes into detail about what folks can and can't bring into the building and why. It also lists its "top 8 allergen free foods commonly available" on its menu, so that's nice. The policy suggests things go to your car to eat your own food or leave and come back, no problem. (Also OK to bring in: "reusable water bottles, baby bottles, coffee mugs or sippy cups. Commercially prepared beverages, such as Starbucks or Dutch Bros lattes are also allowed.") — Good thing, too. Because you just can't separate us moms from our Starbucks! 🙂
See ya there!
---
IF YOU GO
Ahoy Kitsap Playland
5934 WA-303
Bremerton, WA 98311
Website: www.ahoykitsap.com
Online Shop: www.ahoy-kitsap.square.site
Hours: Listed on Google Reviews
Cost: $15 per person single admission; with memberships and admission punch cards also available
Email: [email protected]
Faceboook: @AhoyKitsap