Two in Tow & On the Go: Kenneth Leo Marvin Veterans Memorial Park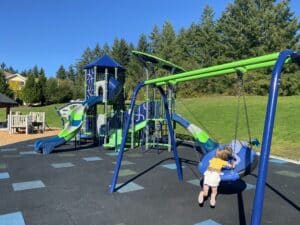 With Memorial Day right around the corner, we wanted to give a local shoutout to Clara and Wyatt's current playground of choice – Kenneth Leo Marvin Veterans Memorial Park on Gig Harbor's west side.
With its tall tower slide, friendship-making disc swing, and a stone monument honoring local veterans from the 1940s, this Gig Harbor city park is sure to be a fast fave!
Not only is Veterans Memorial Park, aka "the green and blue park" the spot Clara and Wyatt ask to visit most often, but it's also the closest playground to our house. Score!
A small old-school tot lot exists there but, overall, I'd officially deem this destination a "big kid" park due to the tiered height of its main play tower.
There's also a particularly tall rope jungle gym that will leave you seriously questioning just how good your upper body strength really is as you help your most curious climbers down from their precarious perch way above your head.
---
Veterans Memorial Park also boasts parent-friendly logistics – like having its own parking lot plus extra street parking, restrooms with actual locking doors (AND sinks! Gosh, just spoil us, why dontcha?!); and my favorite covered picnic seating with clear sightlines to the play equipment.
---
Park's Namesake
Bring out-of-town grandparents and visitors on this kid trip for two ways to remember those who have served our country.
The first is to reflect on the park's name, inked in honor of the late Kenneth Leo Marvin (1921 – 2006). Friends called him "Kenny".
According to his obituary: Marvin "graduated from Gig Harbor Union in 1939. After graduation, he joined the Marine Corp. and was sent off to World War II. After a tough battle at Wake Island, Kenneth was captured and spent 3 1/2 years in Japanese prison camps. Happily returning to the USA in 1945, he married his love, Fern Janice Underwood. He owned the Shell Gas Station on old Hwy 16 for 18 years, then worked at various businesses in the area, including commercial fishing."
The old Harbor History Museum blog has a wonderfully-detailed post from 2015 about Marvin, written years after he passed. A snippet of it reads: "His great-grandfather, his grandfather, and two great-uncles all fought in the Civil War. His brother joined the Marines in 1935 in preparation should the U.S. be drawn into the war going on in Europe and Asia. Kenny, like most young men, found the stories about the Civil War and the military fascinating.  A lot of his interest came from the letters his family members wrote home about the war." 
---
WWII  Monument
The second opportunity to honor veterans is to check out the World War II Veterans Memorial Monument installed at the park on the grass near the parking lot. The single stone pillar, according to city documents, is from the 1940s and was made "in recognition of the dedication to duty and sacrifice made by all veterans."
Further, a smoothed-out square in the middle of the art piece says: "Inscribed To Those Who Served Their Country In The Global War."
Fourteen names of local veterans are imprinted on a metal plate adhered to the monument's stacked block base near the bottom.
Apparently, the monument was originally at Gig Harbor Union, the town's first high school. Then, it spent some time at Harbor Ridge Middle School on Prentice Avenue N.W. before moving to Kenneth Leo Marvin Veterans Memorial Park during the site's dedication in 2009. The park was previously called Westside Park, according to this article in Gig Harbor Life.
---
And now, a few more kiddo-related things we like about this park:
---
Slide-Climbin' Hand Grabbers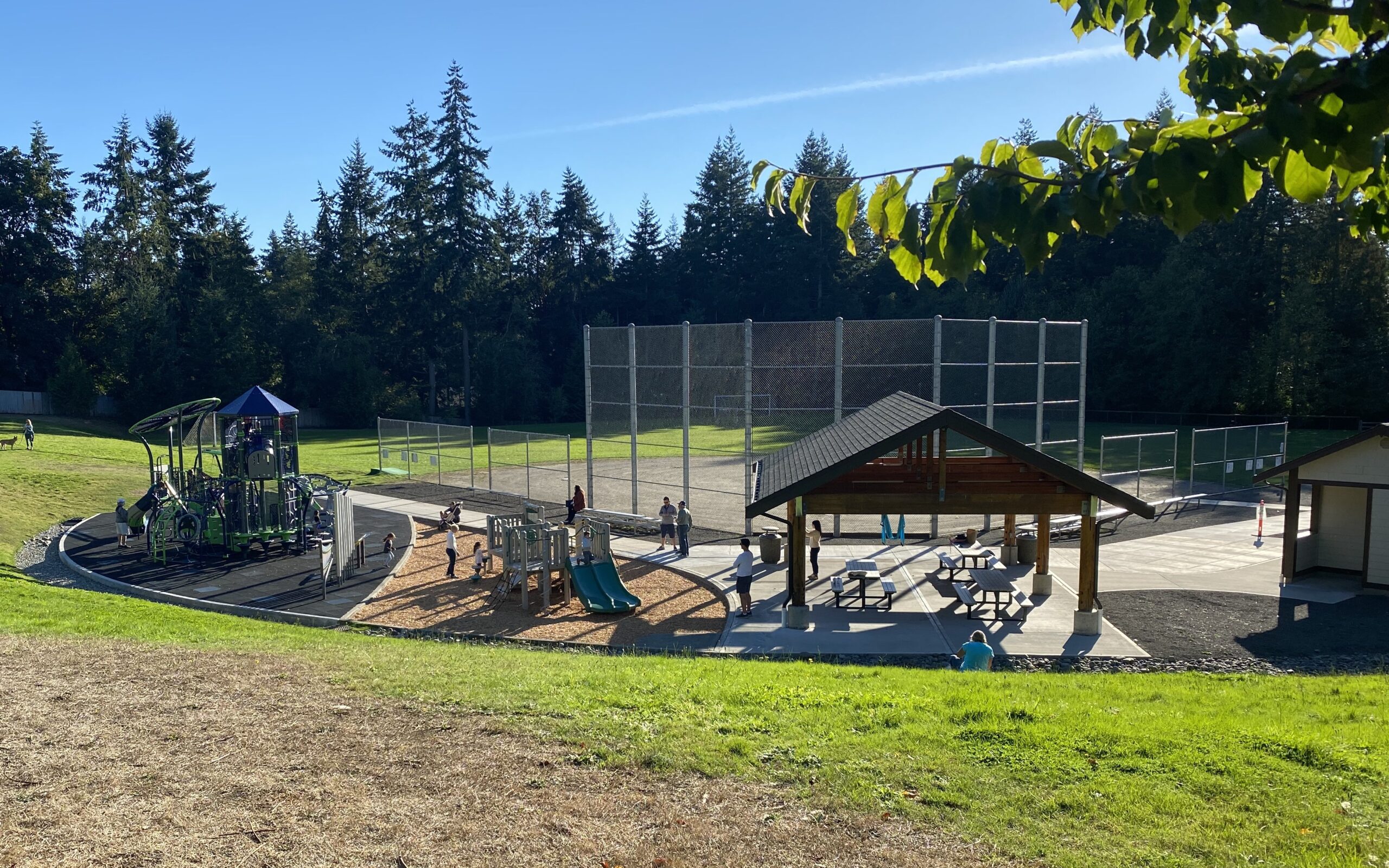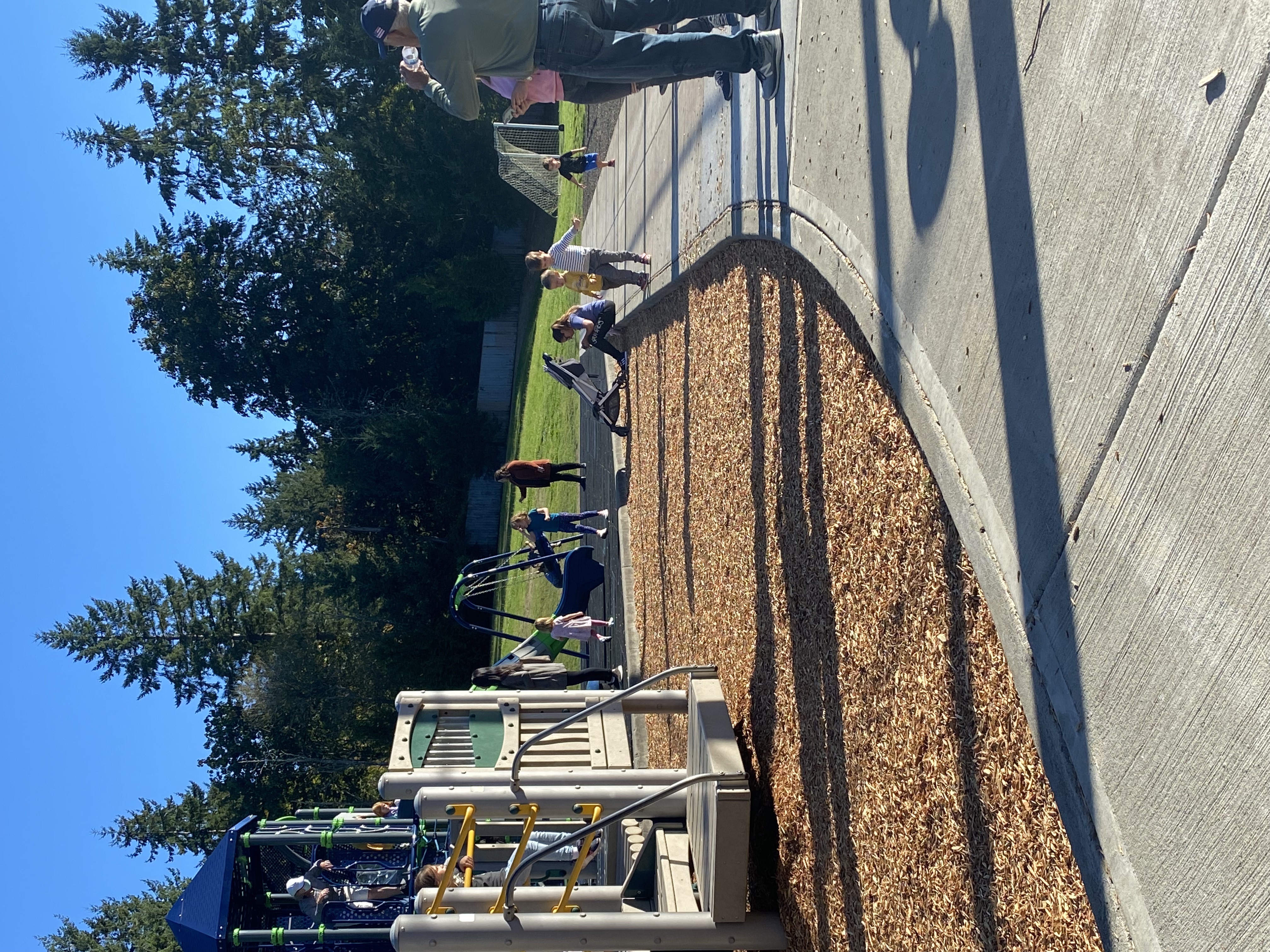 What's one unpopular parenting opinion you have?
Mine is we're 100%, climb-up-the-slide people. While I'm slightly cray about water safety (and bridge safety, apparently), I quickly part ways from the helicopter parents because I simply can't stand people nagging kids about not climbing up the slide.
They're kids! They'll figure it out.
And we should let them. That's what learning through experience is all about. Clara and Wyatt quickly discovered on their own that if another kid is coming down the slide while they were climbing up it, they just might get a face full of sneakers. And that's not fun.
Easy peasy, lesson learned.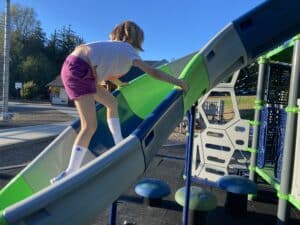 The park designers understand these key life lessons. I know they know (that we know they know we know) because they've designed the only slide I've ever encountered that has physical hand slots dipped into the sides – aaall the way up!
I didn't even realize the hand slots were there during our first 17 trips to the park (give or take). That is, until visit numero 18 when I zoomed down the slide myself while running my hands along the outside and nearly lost a pinky finger when it caught the gap.
So keep your hands, arms, (and pinky fingers!) inside the vehicle (er, curved plastic slide thing) at all times, friends!
And, see the lesson I  learned there? You bet I'm never going to run my hands down the sides of that slide again. No parent nagging required. The near-miss is a minor transgression I forgive the slide people for since they actually encourage curious little "experience by doing" climbers with their designs.
Ps. For full disclosure: I don't think Bowen is a climb-up-the-slide person. Which makes park dates sort of awkward. But that's OK. As long as we don't go to the park together. 🙂
Friendship Disc Swing that fits 4+ kids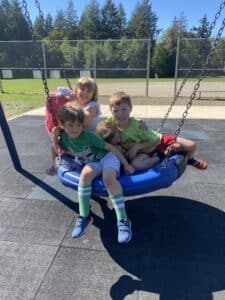 Clara and Wyatt always make friends on the flat blue disc swing, and I love that feature all the more for it. It's fun to watch all the kids at the playground inevitably gather 'round to take turns on the swinging seat or to push in groups.
It's really just the cutest ever to watch kids who don't know each other instantly team up at the disc swing. These particular children pictured left are actually our friends' kids. But, it's basically the same go-team-swing scenario every time.
Pro Tip: Make sure babies don't toddle into the path of the swinging disc because it's the perfect knock- 'em-over-height and we've seen some close calls.
---
Scary Rope Climber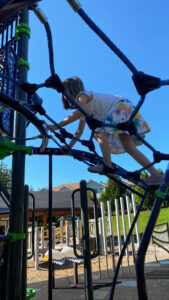 Look all good things, when I say scary, the kids say fun. So the title of this section is debatable depending on who you ask. Do the kids love it? Yes. So I guess that means it stays on this "things we love" list.
Clara (9) and Wyatt (7), love tackling this rope climber, located on the side of the tall slide tower. It's scary for me because the connections of stretched rope squares are taller than I am.
So, as I alluded to at the beginning, if the kids fall from said rope climber there's a 98% chance of them tumbling directly into my face instead of into my outstretched arms.
But, you know …. it's unlikely that would even happen. After all, they probably have strong coordination muscles from all those years of – you guessed it – climbing up the slides 🙂
---
IF YOU GO
---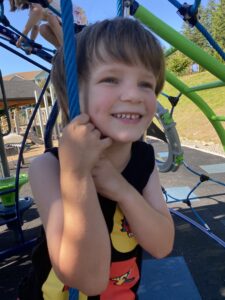 Address: 3580 50th St. Court
Hours: Dawn till dusk
Restrooms: Yes
Run by: City of Gig Harbor
Size: 5.57 acres
Bonus: Half-court basketball area, combined a baseball diamond with bleachers, soccer fields
Info: (253) 851-8136 // Park Website 
---