Two in Tow & On the Go: Three Mom Hacks for Walking the Tacoma Narrows Bridge with Kids
Being from Southern California, I've never lived in a town with bridges before. You know, besides the concrete jungle freeway overpass variety. But I've always been wowed by crossings that span a divide. And the surprisingly long, green-tone Tacoma Narrows Bridge, with its harrowing "Galloping Gertie" backstory, is no exception.
Walking across the bridge was something I wanted to do since the moment we first ooh'd and aah'd over its tall towers and great swooping cables upon moving here. From the road, I'd seen how to walk across it from the Tacoma side (more on that below), but not from the Gig Harbor side. So that's what Clara, Wyatt, and I set out to do.
Last winter, after weeks of rain, we saw a moment of sunlight and dry skies. So with a skip, hop, and one possibly illegal parking spot later, we went for it!
And now I can say with certainty that the bridge walk is an absolutely incredible kid-venture that I recommend doing at least once. That said, it was also loud, kinda scary, and required a big safety talk with the kiddos followed by a ton of reminders. Tip: it was also clear that any toddler situation on the bridge definitely requires a stroller.
Read on for all the deets and my three super important mom hacks for walking the Tacoma Narrows Bridge with kids from the Gig Harbor side.
Tacoma Narrows Bridge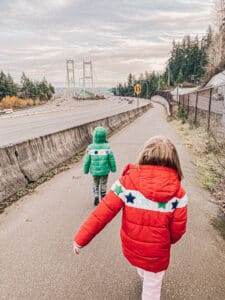 First, a brief background: The Tacoma Narrows Bridge is actually two suspension bridges, one eastbound, and one westbound. They connect the Kitsap Peninsula (where we live in Gig Harbor) to Tacoma over an especially blustery section of the Puget Sound called The Narrows.
Looking at the bridge towers in this pic at right, the westbound bridge is the skinny one built in 1950 after its short-lived predecessor collapsed 1o years prior. The wider eastbound bridge came later, in 2007. The Washington state Department of Transportation has some great facts and history about the bridges and their stories for a closer look.
The first Tacoma Narrows Bridge, which opened and fell in 1940, took on the "Galloping Gertie" nickname for the way its long, ribbon-like deck swayed and rolled in high winds. (Further, some say "Galloping Gertie" first originated by the up-and-down way racehorses – or greyhounds – looked as they bounded toward the finish line). 
The only option to walk across the Tacoma Narrows Bridge is on the eastbound bridge. There's no pedestrian access on the westbound bridge at all. Once, from the car, I spied a teeny tiny foot corridor for work crews to shimmy on through for maintenance stuff. But all the warning signs and locked gates on that side say we general public folk need to keep out.
---
Scott Pierson Trail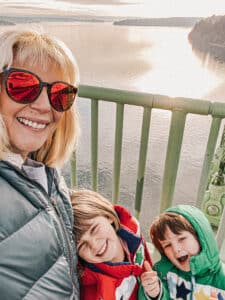 The kids and I crossed the eastbound bridge via the  Scott Pierson Trail. Developed by the Washington state Department of Transportation as a paved, multi-use path, the route stretches 6.1 miles from Gig Harbor at 24th Street NW and Highway 16 all the way east to S. 25th Street in Tacoma.
To reach the bridge section of the trail, people can either park on the Gig Harbor side with no official parking lot, or on the Tacoma side at the War Memorial Park parking lot.
Unfortunately, when I say there's no parking at the Gig Harbor trail entrance, I mean it. Zip. Zilch. Nada. Our SUV circled the area like, four times looking for a spot. The official trail entrance is clearly made for cyclists who started their journey elsewhere to slip onto as they head east out of town.
But fear not, pedestrians! You're in luck. Because I found a hack. A hack probably every local in the history of Gig Harbor already knows. But I'm new here, so let's just roll with the idea that this hack shows unprecedented resourcefulness and determination.
---
FUN FACT: While I can't find a ton of info on this Mr. Pierson character, I did find a few things. It appears he is/was a city planner who biked to work and helped convince Washington's Department of Transportation to build a trail over the eastbound bridge (Pierson's mention in the linked story begins in the fourth paragraph). He also contributed to one of the first modern bike maps for Tacoma and Pierce County. Pretty cool! If anyone knows him, I'd love to include his pic on here so let me know!
---
Tonya's Bridge Hack No. 1
Park on the wide gravel shoulder in front of Patriot Roofing, at 623 Stone Dr. NW. This not-so-treacherous offroad spot is conveniently located adjacent to Highway 16 and the Scott Pierson Trail, just a little way down from the trail entrance.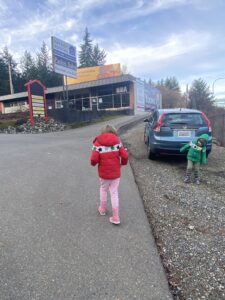 NOTE: I chose the gravel shoulder over Patriot Roofing's actual parking lot on the chance they or someone else gets irked about non-costumers eating up their parking spots.
---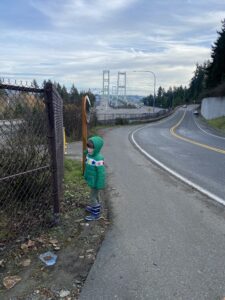 Once we finally parked, we didn't even have to jump a fence or anything shady to reach the Scott Pierson Trail because there was a little opening right there in the fence! Then it's a straight line all the way out to the bridge.
The path is wide and paved. It's even home to a little bridge monument to look at (or climb on, if you're ages 6 and 8).
---
Tonya's Bridge Hack No. 2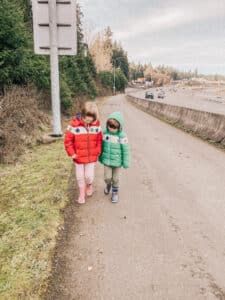 The walkway butts up against an eastbound rush of vehicles barreling through at high rates of speed. That brings me to that critical kiddo safety discussion I mentioned earlier.
Make your kids walk along the right-hand side of the path and then put yourself between them and the highway's short concrete barrier. Talk to them about freeway traffic and how fast those cars are actually going 😳.
Think about it: how often are your kids walking along a highway? Probably not much, if ever. A few warnings will increase their awareness. Also, freeway cars make the walk LOUD, so make sure you have that safety talk stuff on the ride there — before you get on the path.
---
Walking The Narrows Bridge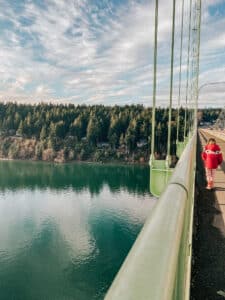 After the monument, we kept walking and soon found that the views were incredible! The water was a deep blue-green and went for miles. My stomach dropped when I looked down, which is always a little thrill. Since we went on a clear day, we saw University Place and Steilacoom to the southeast. We even watched a crazy-long freight train with its patchwork of colorful boxcars snake down the shoreline. Immediately below us, we spotted tiny ant people enjoying the rocky coast of Narrows Beach.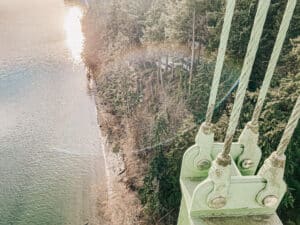 ---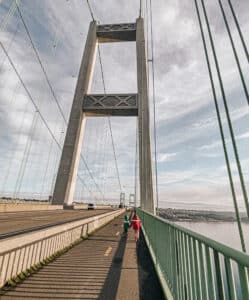 The first half of the bridge path is, in fact, really well done. It has a two-way paved pedestrian/bicycle route with handy dashed yellow lines and is plenty wide. Maybe 10 feet across? Regardless, there's room for everyone. Wheels work on the trail since it's entirely paved, making it stroller-friendly and probably wheelchair-friendly, too. Since I walked the path with school-aged children who, almost without fail, ask to be carried back on long walks, we trekked maybe a quarter mile in before turning around. In fact, I think stopping was our favorite part (lol). Really, though, stopping to take in the sights was magical.
Tonya's Bridge Hack No. 3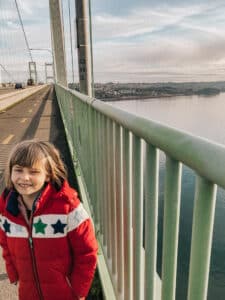 Now for some logistics. Both there and back, I had the kids walk on the waterside of the bridge. Like aaall the way over. That way, they didn't get in the way of those cyclists on a mission or the earbud-wearing runners. But most importantly: it allowed me to (again) insert myself between my tiny humans and that sad little two- or three-foot-tall concrete barrier between us and the Highway 16 traffic roaring by. Honestly, the bridge's towering height was not scary at all. Easy-peasy. It was those cars that really freaked me out. I worried the kids would run ahead, not pay attention, stumble, and flop completely over the divider. Which would land them directly into oncoming traffic and – poof- they'd be gone forever. Hooray for mom brains, am I right?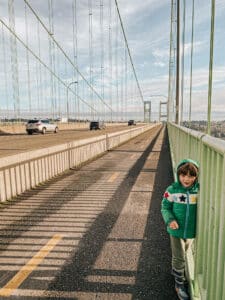 Further down the rabbit hole of parental cautionings, the waterside of the walkway sports a roughly 5-foot-tall bar railing. Don't doubt for a second whether I checked if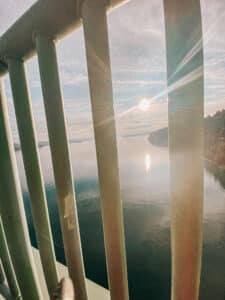 those skinny things were wide enough for my kids to slip through. I tested it out with my smallest human first. With my hand vice-gripped around his arm, Wyatt and I slowly and cautiously determined how much of his body fit between the bars sideways. The verdict? His arms and shoulders, but not his head. We didn't try his legs – that's way too scary. Clara is taller than Wyatt by a few inches and just her arms fit, but even then not so much with puffy coats. That said, I don't know if I'd trust the gaps with kiddos in the 1 to 3 age category. I'm probably just crazy. Then again, you could even have a partially stuck situation. And you don't want them running ahead on the freeway side either. Look how relaxing this bridge walk is! (haha). Feel safer with those little buggers restrained instead? 😅 Just bring the stroller.
---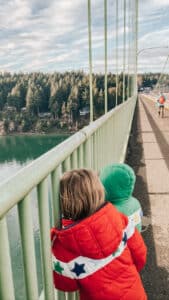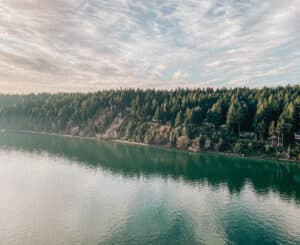 Overall, walking the Tacoma Narrows Bridge from the Gig Harbor side is a nice, short-distance stroll known for its views. You don't need to cross the bridge entirely to appreciate it. We walked a bit, conducted the cringe-y rail measuring experiment, took a ton of pics and turned back to the car. And even that short bit took about an hour from start to finish.
Walking the full length seems like a popular outing for families with teens, couples, singletons, and folks fulfilling their cardio quota for the week. But for us, it was short and sweet. And even though the safety stuff kept me on high alert, I hope we get to do it again this winter.
Welp, that's it for our Tacoma Narrows Bridge adventure! Would you walk across this bridge with kids, or have you already? Are you going to be a weirdo like me and do the railing test? Let me know on my Facebook page!
Also, if you're still reading, your reward is to be swooned by this Instagram Reel of the kids and me on the bridge, all cute and livin' for the moment.
See ya out there!
Tonya Strickland is a Gig Harbor mom-of-two, longtime journalist, and Instagram influencer in the family and travel niche. Her blog, Two in Tow & On the Go, was recently named among the 10 Seattle-Area Instagram Accounts to Follow by ParentMap magazine. Tonya and her husband Bowen recently moved to Gig Harbor from California with their two kids, Clara (9) and Wyatt (7). When they're not adventuring, Tonya stays busy navigating how umbrellas are unacceptable life choices now, giant house spiders exist but only in September, and that salted parking lots are absolutely not weird at all. Find her on Instagram  and Facebook  for all the kid-friendly places in and around Gig Harbor.