Two in Tow & On the Go: A family-friendly day at Tacoma's Cheney Stadium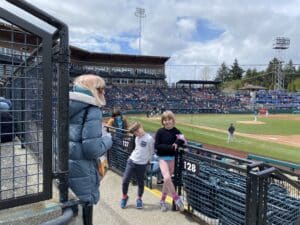 Remember that time I told you I wasn't particularly sporty? Well, I can now say the tides, they are a turnin'. I've been to what (I think) is my very first professional baseball game! 
Yep, that's right. Bowen and I took the kids to see everyone's favorite minor league baseball team, the Rainiers, at Tacoma's Cheney Stadium. And it was surprisingly family-friendly!
Read on for the full list of everything kiddo approved there.
First off, did we love the game? Yes! Did we watch the whole thing? No. Lol. But hear me out. In a different world, I would've gladly sat alongside my husband Bowen and drank beer from giant plastic cups — living our best lives. But in the parenting world, I was pretty much all over the place. 
Here's the season's 2023 schedule and ticket info for games now through September.
Our day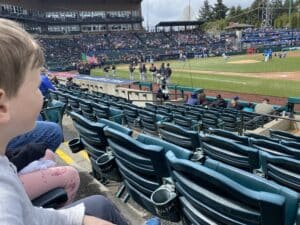 First, we had to check out what cool free things we could get from our friends' special tickets to the Summit Club (Cold water bottles! Soda! Popcorn from neat turn-style cereal dispenser things!) You guys, there was even free booze. Swoon. (The Summit Club is a 4,000-square-foot members-only box of premium fanciness on the stadium's third floor).
Second, after we left the club, we had to scout the food situation downstairs, stand in line for two popcorns, two cotton candies, and 5 hot dogs, spill the popcorn, clean it up, find our seats, sit down for four seconds, shove food in our faces, fall victim to distraction yet again when a certain someone has to go potty, find a restroom, discreetly panic waiting outside for 7-year-old Wyatt to do his business in the men's restroom because he's too old for me to drag him into the women's restroom these days, walk back to our seats, get lost on the way, spot a surprise playground (!!!), talk about the family-friendly awesomeness of Cheney Stadium, find our seats, whisper-yell to daddy about our playground find, watch two minutes of I don't even know what inning, and then …
Third, you guessed it, we had to hit up the playground. Whew! What a day. And that was only an hour of it.
The playground
The playground is a red, blue and silver collection of climbing fun located in the family pavilion behind the stadium's grassy berm/first base side. Built in 2016, the playground has two parts: a main structure for kids ages 5 to 12 and a smaller activity cube climber for kids ages 2 to 5. Really, though, everyone was playing on everything there, no matter their exact age. A park rules sign on site says kids up to 17 years old are even welcome to play.
The "big kid" side features a Traveler Climber, Seeker Climber, Portal Climber, Vertical Ascent Climber, and a Crest Climber all by Minnesota-based playground manufacturer Landscape Structures (Ps. As you can tell, I really love linking playground equipment to the manufacturer so parents can see exactly what each one was designed to do!). Younger kids have a Smart Play Cube there featuring 14 activities including puzzle panels to slide and spin, a smaller-scale slide, and places to climb.
Both of these play spaces are situated under a canopy of fly ball netting to protect little noggins, and adjacent to the cutest mini-diamond Wiffle ball field for kids to do some batting. 
Kid days & features
I didn't know it at the time, but we went last month on one of the ballpark's "Smile Sundays," where every Sunday home game features special activities like a photo booth, face painter, and balloon artist. Lots of kids had colorful balloon animals as a result. The family pavilion is easily one of the busiest areas in the stadium, so there are lots of signs posted to not leave children unattended.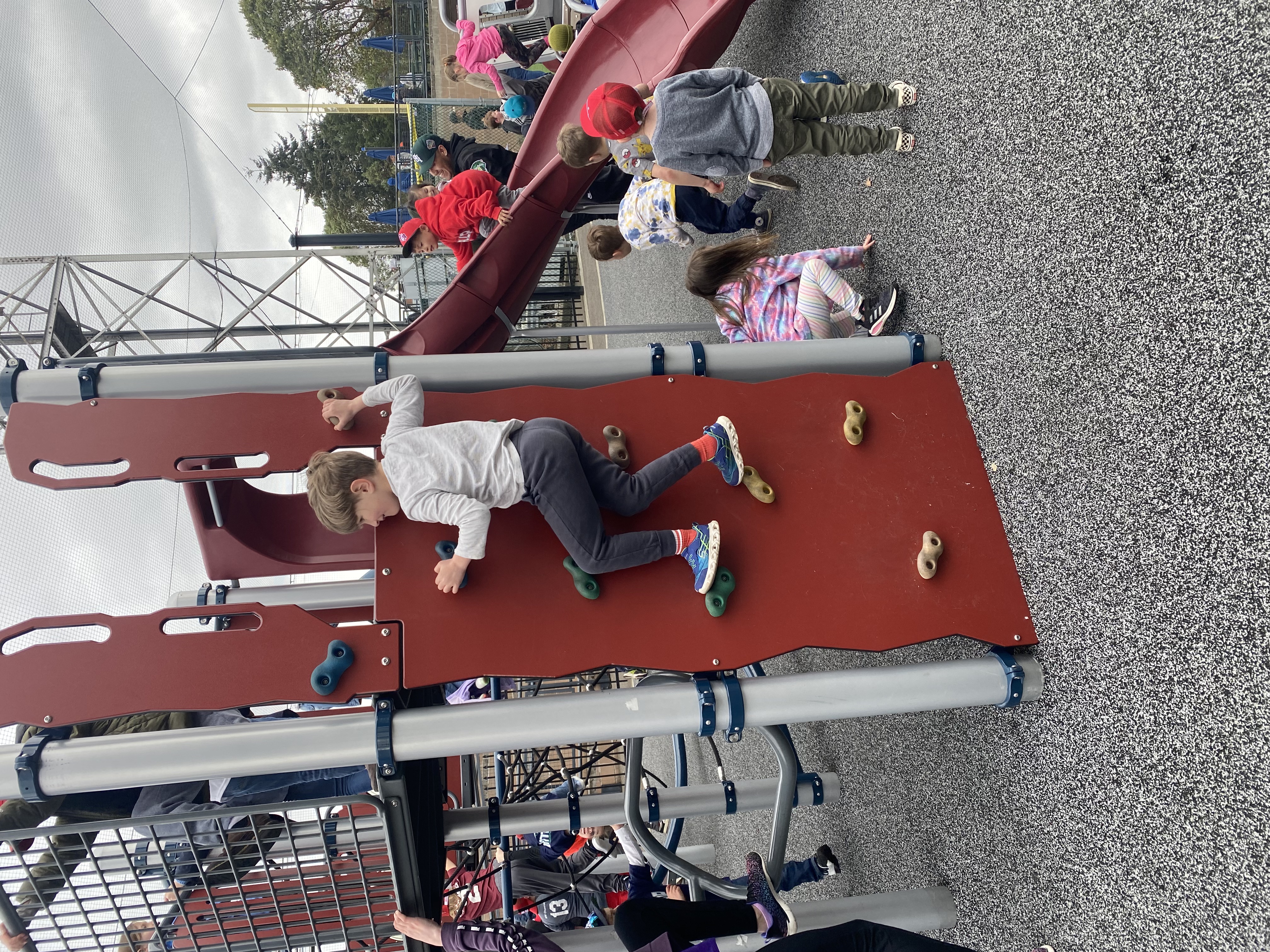 Having an entire corner of the stadium specifically dedicated to burning off some kiddo energy is pretty rad in itself, but there's more. Here's the scoop on everything else family-friendly at Cheney Stadium: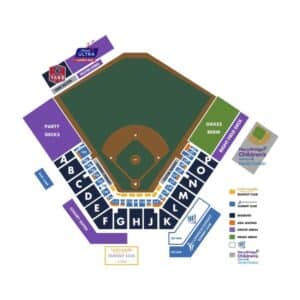 Baby changing tables are located in all its ballpark restrooms; plus there's a family restroom behind Section L on the concourse. 
Strollers are allowed in Cheney Stadium as long as they fold up to fit under your seat and don't obstruct the aisles.
Diaper bags are OK after a security search; all other bags and purses must be one of those "stadium clear" bags in a certain size.
General Admission ticketholders can bring blankets and sit on the Right Field Berm (grassy hill) adjacent to the playground. (Looks amazing on a sunny day!) 
Concession stands (aka walkup fast food counters with menus and credit card machines) are on the stadium's first- and third-base sides and have hot foods, snacks, sweet treats, and drinks.
R City Kids Club is a special $10 child membership for ages 12 and younger. Members get one ticket to three games in the 2023 season, a hat and bag, and other perks.
Autographs. This stadium-provided pro tip says: "If you can't get the autograph you're seeking next to the dugout, hang out on the third base concourse behind the stands.  You'll probably catch a player or two walking to the batting cage to tune up for that night's game – even after the gates are open!"
There are four mascots: Rhubarb the Reindeer, Epic Sax Gorilla (and his mid-game tunes), Polar Boy, and Disco Beaver.
Sunday, May 28 is Cheney Stadium's Youth Baseball Day. Browse tickets here. Both games that day feature a Pregame Parade open to little league, recreation teams, softball teams, and others (plus their families). For more information or to book groups of 20+ contact Caitlin Calnan at [email protected]. 
Children's Group Outings promise future fun for organizations like Girl Scouts, school choirs invited to sing the National Anthem, Summer Day Camp Days, and more. I linked all the info here.
In the two milliseconds we sat and watched an actual play take place somewhere in the middle of the game — it was SO COOL. There were cheers from the crowd, and some bases were covered … (oh, wait, that's like a preparation thing not a sports thing right? I don't even know the lingo, you guys.) But, yeah, players were hitting balls, running bases, and doing all the baseball things and it was awesome. We even got to watch a fan catch a fly ball (and one frickin' bounced off a kid's head which they totally warn you about on signs at the stadium and online but you think won't happen IRL — but then it does!!).
So, even though I didn't really know what was going on sports-wise, or stayed in one spot for any length of time, the atmosphere was really fun and everyone was friendly. I totally recommend taking your kids —sports fans or not. Even if that means several field trips to the restroom (and that cool playground).
---
Tonya Strickland is a Gig Harbor mom-of-two, longtime journalist, and Instagram influencer in the family and travel niche. Her blog, Two in Tow & On the Go, was recently named among the 10 Seattle-Area Instagram Accounts to Follow by ParentMap magazine. Tonya and her husband Bowen recently moved to Gig Harbor from California with their two kids, Clara (9) and Wyatt (7). When they're not adventuring, Tonya stays busy navigating how umbrellas are unacceptable life choices now, giant house spiders exist but only in September, and that salted parking lots are absolutely not weird at all. Find her on Instagram  and Facebook  for all the kid-friendly places in and around Gig Harbor.