Chum Festival returns to welcome the salmon home
It's been two years since Gig Harbor celebrated the return of the salmon to Donkey Creek. Lindsey Stover is delighted that the community can come together once again and welcome the salmon home.
Stover is executive director of Harbor WildWatch, the non-profit organization that sponsors nature walks, workshops, Pier into the Night events and – this weekend – the 14th annual Chum Festival.
The free festival takes place from 11 a.m. to 4 p.m. Saturday and Sunday, Nov. 19 and 20, at Harbor History Museum.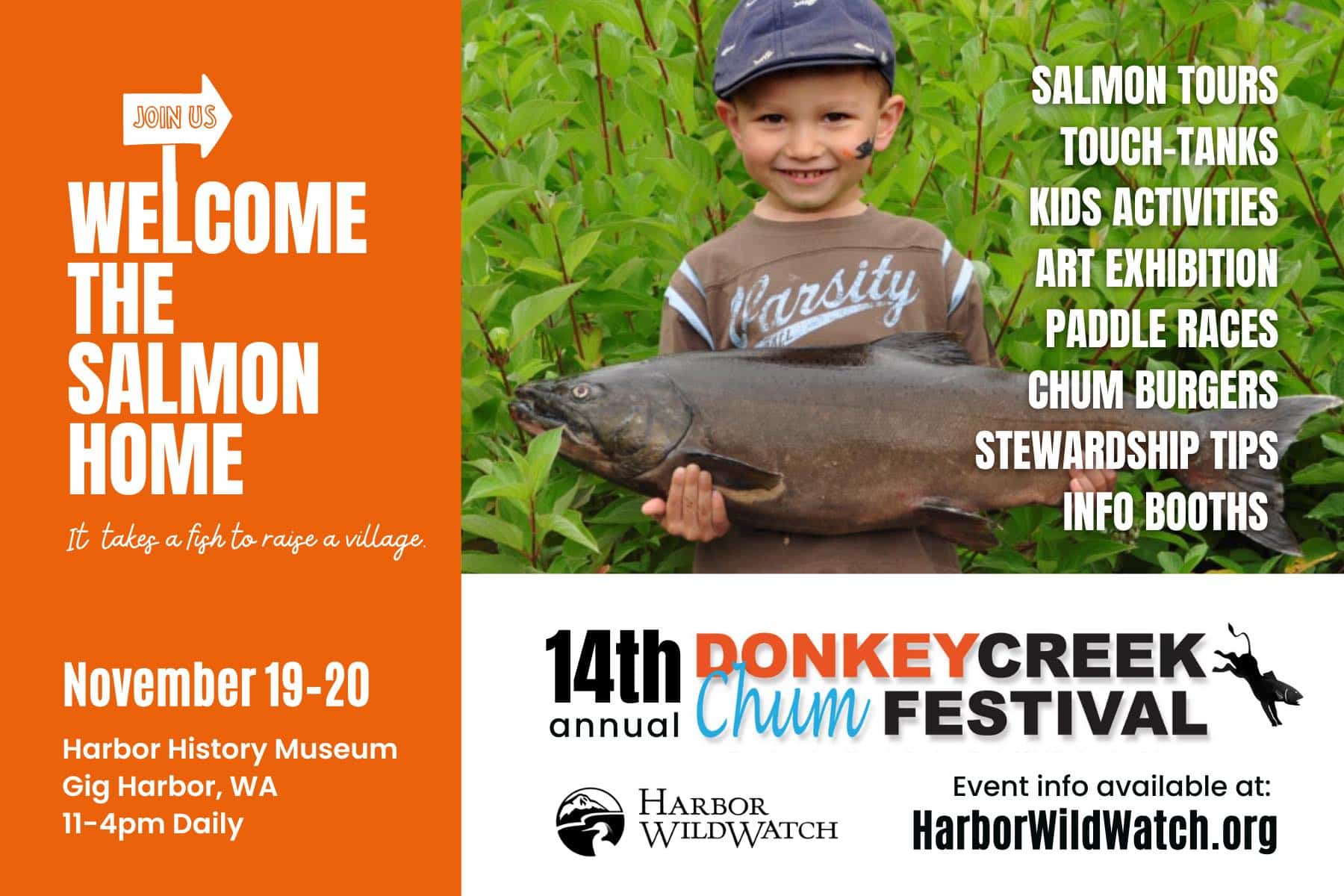 "We're so happy to bring back this event that's so important for our community," Stover said in a phone interview. "It's been a long two years with COVID shutdowns, and we are really looking forward to bringing the community together again."
Old and new features
Many familiar features are back this year with some new things added, as well, Stover said.
There will be educational, artistic, athletic and even culinary activities both days. The National Wildlife Foundation, Downtown Waterfront Alliance, Crescent Valley Alliance, Surf Rider, city of Gig Harbor, Peninsula School District and others will have informational booths.
Museum volunteers and staff will talk about the restoration of the Shenandoah, the historic purse seiner that was built in Gig Harbor and spent many years in fishing in Puget Sound and Alaska.
Outdoor activities include lots of kid stuff. Like WildWatch touch tanks, adding handprints to a huge salmon drawing ("The handprints will represent the salmon's scales," Stover said) and covering actual fish with paint to make "fish prints" on tee shirts or tote bags.
"We'll provide the fish and the paint but people need to remember to bring their own shirt or bag to print," Stover said.
In addition, WildWatch volunteers will lead nature walks along the creek and talk about the journey and life cycle of salmon. Biologist Steve Seville will discuss the importance of removing culverts and other barriers that keep fish from their spawning grounds.
Out on the water, the Gig Harbor Canoe and Kayak Racing Team and Gig Harbor Dragonboats will have races both days.
Salmon on the grill and in the freezer
The Kiwanis Club and Fishermen's Club are back making chum burgers both days, and the Harbor Fish Company will sell frozen or smoked Alaska sockeye salmon on Sunday.
Stover acknowledged the festival's sponsors ArtsWA,, the Gig Harbor Rotary Club and the city of Gig Harbor's Lodging Tax fund.