Two in Tow & On the Go: Views, do's and don'ts at the Old Ferry Landing
Today's column took Clara and Wyatt through the rich history of Gig Harbor's Old Ferry Landing, from its early days of dependable transportation to its current status as a scenic viewpoint and public space.
It also turned us into accidental trespassers. Oops.
Tucked away in a lovely residential neighborhood overlooking the shoreline entrance of the Gig Harbor bay, the city in 2003 turned the end of Harborview Drive into one of its handy urban pocket parks called Old Ferry Landing.
The name, of course, is a throwback to the bluff's early days as a passenger boat stop for service across the water before the Tacoma Narrows Bridge opened (and then, sadly, collapsed). After that, a different ferry dock resumed service for Gig Harbor while the present do-over bridge was constructed.
Evidence of Old Ferry Landing's original wooden dock, where people stepped on and off locally-famous heritage boats like the "Skansonia," can still be seen in the supports sticking out from the waterline looking eastward to Tacoma.
Today, the old boats are gone (or docked near Seattle as a random floating wedding venue), but the views remain.
---
The sights
From the viewpoint (which you should totally wow your out-of-town guests with, by the way), the kids enjoyed spotting the snowy goodness of Mount Rainier (on a good day), the curve of sandspit with its cute miniature time capsule lighthouse, Colvos Passage, and the lush tree cover of Point Defiance.
The city outfitted Old Ferry Landing with picnic tables, a drinking fountain, informational markers — and just a few parking spots. As much as pop culture wants you to get your steps in, I highly recommend trying to nab one of those spots if you plan on bringing children. Otherwise, the closest parking available is probably the angled spots on Harborview Drive at Soundview Forest Park across from the 7 Seas Brewing construction site. It's not that far of a walk from there if you're just a normal person, free to walk in blissful silence.
But for parents … let's just say it's all fun and games walking to your destination. But, my friends, we know it's the
walking back that's the problem. Without fail, I will forget this lesson, park far away from wherever we're going, think I'm sooooo smart burning off all their energy in my tactical move to ensure a good bedtime, forget that said tiredness also affects our return trip to the vehicle, and the whole. long. walk. is just one big whiney disaster. I will say, however, that the entire neighborhood street leading up to the landing is lined with no-parking signs, so they clearly don't want a lot of random cars passing through. So, there is that.
But I'd still take a peek to see if any of the landing spots are available. (PS: There are no restrooms at Old Ferry Landing. The Maritime Pier at 3003 Harborview Drive probably has the closest public restroom.
Seals! Traditions!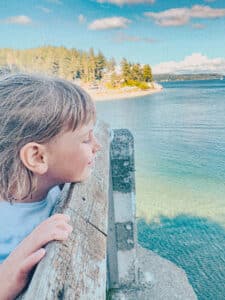 While we were there, resting our arms on the wooden railings and balancing on tip-toes to see over the ledge, Clara and Wyatt spotted a seal in the water! From above, you could see its whole blubber-y body zooming around, even as it dipped beneath the tide. We also saw two women acting out a maritime tradition that we'd read about. But it was happening right in front of our very eyes. I forget where I read this, but someone said that since the ferry landing was located at the entrance of the harbor, local fishing families since the early 1900s traditionally raced to the landing to wave at the commercial fishing boats (which usually included their family members) as they rounded the corner beyond the sandspit on their way to Alaska.
We witnessed this firsthand when, not a fishing family, but two ladies rushed up to the railing and excitedly waved to one of the paddlers down below as they rowed along on one of those long Dragon Boat things. The gals up top were saying "There she is! There she is!" as they waved. It was too cute. And cool for us to witness the tradition still happening all these years later!
No trespassing
Old Ferry Landing, AKA the "Harborview Drive Road End Viewpoint," also offers public water access, since the city's parcel includes the outlook above and a slice of the beach directly below it. (You can see the section here on this Public Water Access Report). Unfortunately, even though the little beach is public, city reps say "the only way to legally get there is by boat/kayak or (paddleboard)" because "the trail crosses private property, and we don't have an easement for the public to use it. It also doesn't meet our safety standards for public access."
Doh.
But then, once you're there, you can't help but notice what the city's website describes as a "narrow footpath running along the bluff (which) serves as pedestrian access to a cluster of historic cabins …"
Tragically, the dirt trail is off-limits to the general public. A reminder that's clearly marked with a mean ol' metal sign that reads "NOT A PUBLIC TRAIL" in blocky white text. At least, such was the case last year. Because when the kids and I visited this year — rejoice! — the sign was gone! I was so excited about its departure that I emailed my city sources right there from my phone asking when they finally opened it up. And — super sorry about this, you guys — it looks like instead of celebrating its opening, I actually just tipped them off that the sign was removed. Because, unfortunately, the city did not, in fact, make the trail public. Maybe someone else removed it as a prank or whatever. Whoops!
---
After I heard back that the city did not, in fact, open the trail or remove the sign, I replied with something along the lines of "Oh great, readers are going to hate me now!" LOL. 'Tis life.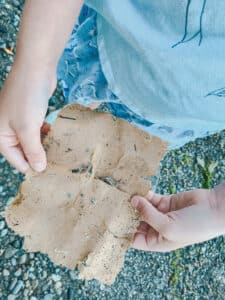 But … before I saw the reply, the kids and I unknowingly became inaugural members of the Old Ferry Landing Trespassers Club* when we followed another nice lady and her cinnamon-tufted dog down the path to breathe in the sweet sweet air of our newfound beach freedom. And it was glorious! We found a treasure map! (maybe — all the ink was washed off); and pirate swords! (that might've been sticks); and sea glass treasure!! (I think that one was actually real).
Also, fun fact, it appears the light-colored cabin you see off the landing at the end of the trail is the Tarabochia Net Shed. Which also appears to still be privately owned.
Anywhoo, I hope you liked my story about the trail you can't use leading down to the beach you aren't allowed to walk to. Aren't my tips on places to take kids so fun?!? How about a joke to smooth things over?
Q: Why don't trespassers make good comedians? A: Because they always cross the line! 
In all seriousness, though, hopefully, we can all rent kayaks or something to get out there — legally! — one day soon. See ya there! (maybe).
*Not a real thing. Trespassing is wrong. 🙂
Local history buff Greg Spadoni strikes again, keeping my historical fun facts in check! An earlier version of this story gave the incorrect name of a ferry boat and said it was steam-powered. The Skansonia was diesel-powered. Ps. Have you seen Spadoni's super cool new history column here, "Gig Harbor Now and Then"? And make sure to hit the comments on the Gig Harbor Now Facebook page with a guess to the local history question Spadoni poses in each story.
---
IF YOU GO …
---
Old Ferry Landing
Location: 2700 Harborview Drive
Run by: City of Gig Harbor; more info here
Hours: Open dawn till dusk
What's there: panoramic views of the bay, picnic tables and benches, drinking fountain, parking spots (and no restrooms)
---