Two in Tow & On the Go | Harbor Family Park – A Forest of Fun
One thing I've noticed about Washington is the reminder that not all parks are playgrounds. What may seem like a simple synonym snafu is actually quite the conundrum with tiny humans steadfast on playing at the slide-and-swing variety.
I'm not sure why this life fact didn't pop up for me in California, but I do know that legions of PNW outdoor enthusiasts are now lining up behind their keyboards to say: "But, Tonya! Gig Harbor's beautiful backdrop of beaches, trails, and trees is the only playground we'd ever need!"
I hear you. I do. Well, I almost do — because it's pretty hard to concentrate with my children protesting from the backseat after our promised trip to "the park" turned up a legit forest instead.
Luckily, Clara and Wyatt have quickly adapted to Washington's wild ways and have even come to regularly request that very same location: the densely wooded Harbor Family Park at 6620 32nd St. NW. Conveniently, it's also the closest park to our house! And, you guessed it, it doesn't have a swing in sight. 
Run by PenMet Parks, Harbor Family Park (and the adjoining Knight Forest) is yet another cool community effort around here. It offers up a twisty-turny series of flat dirt trails from a simple gravel parking where 32nd Street NW meets 70th Avenue in Gig Harbor's rural Artondale neighborhood.
A Setting for the Senses
This family-friendly bit of nature is open to the public from dawn to dusk and quickly immerses visitors into a world of leafy forest fauna, a criss-cross of fallen tree trunks on the sidelines, and at least one manmade stick fort. If I remember correctly, some trails are marked but I still felt like it was easy to get turned around there. Tip: PenMet Parks offers a handy trail map here.
On the Knight Forest area to the north, I heard there's even an old homestead foundation to explore.
The park's overall setting makes for all sorts of interesting ways to engage the five senses for you and your kiddos:
Touch – the patches of springy moss that line the tree branches
Hear – the sounds of birds (and try to spot them if you can)
See – the different and distinct shapes of the leaves from the many types of trees above. Tip: Remember to look up!
Smell – the rain, since it probably sprinkled at least once while you were there in every season aside from summer.
Taste – the yummy snacks you packed, and remember to take the wrappers with you.
We play the five senses game a lot. On our last trip to Harbor Family Park last week, Wyatt spotted stacks of whimsical mushroom tops growing like little bookshelves along the tree line (we have a no-touching mushrooms rule).
Clara, meanwhile, always finds cool things to climb on, and was quick to test her balancing skills on the trunks of fallen trees. In fact, the 2021 PenMet Passport summer activity tasked kids to find one such tree – which was said to be the biggest in the park at almost 6 feet around! 
---
The Safety Stuff
If you hit the trails around 4 or 5 p.m. in the winter like we did last week, the park gets dark super fast. The tall-tree canopy blocks whatever little sunlight we have this time of year. Last year, I took a little video of us walking around a patch of vegetation that looked like an animals' den. Using a pair of Instagram story eyeball stickers, I joked about The Nothing* monster from 1984's "The Neverending Story" movie peeping out at us from the darkness. (Don't you want to hike with me now? Lol). 
Tip: Actually, the video was more funny than scary but now seems like a good time for a safety reminder anyway: buddy up with another grownup for any kid-venture that takes you out of sight from the main crowd, whether it's a hike or even a neighborhood walk in a rural area. If I'm alone with the kids and I get lost or hurt while out of sight from others, it's not as though my kids can carry me outta there. So I almost never go hiking alone with them for this very reason. That said, Harbor Family Park is more of a walk than a traditional hike — so just use your best judgment. 
---
Hiking, But Not
Anyhoo, where I was originally going with that 1980s pop culture detour was even though we were in a forest, we could still hear the hum of cars along 32nd Street. That makes Harbor Family Park just the right amount of privacy vs. proximity-to-civilization for me. Not surprisingly, I'm the type of person to get lost easily, so I found comfort in knowing we were never that far from our car.
Tip: I always share my GPS location from my phone's mapping platform with my hubs when we're out and about — just in case.
Overall, Harbor Family Park is a fun, quick-hit trip for exploration in a mostly-primitive forest setting. It's fun for kids, even very little ones, and makes for a nice spot to impress out-of-town visitors. There's also a cool secret-ish shortcut trail for adults and big kids into the east side of the park off 32nd Street.
The downsides to this park are that it's not stroller- or wheelchair-friendly, there's not really anywhere to sit for a snack break and it lacks restrooms.
Tip: Look out for the exposed tree root tripping hazards here, which are usually marked with neon chalk or paint by some thoughtful individual. 
In other news, I read that some of Harbor Family Park could one day be developed into sports fields (see Chapter 6 in PenMet Park's 2018 plan for open space set to be updated with 0ptions for additional public comment this year).
The will-they/won't-they about the park's future has created some community back-and-forth over the years. My kids play soccer around Gig Harbor so I totally understand the need for all types of recreation space; but the all-forest vibe also makes for a cool getaway. I don't know what the answer here is, but for now, the site remains largely undisturbed in an otherwise bustling neighborhood of homes.
And that feels pretty special. 
See ya out there!
---
*Ps. The website I linked says the den/eyeball monster is actually a wolf named G'mork (what?!?). The Nothing in the movie is something else entirely. #MindOfficiallyBlown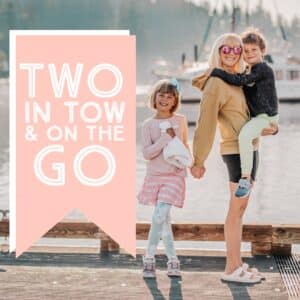 Tonya Strickland is a Gig Harbor mom-of-two, longtime journalist, and Instagram influencer in the family and travel niche. Her blog, Two in Tow & On the Go, was recently named among the 10 Seattle-Area Instagram Accounts to Follow by ParentMap magazine. Tonya and her husband Bowen recently moved to Gig Harbor from California with their two kids, Clara (9) and Wyatt (7). When they're not adventuring, Tonya stays busy navigating how umbrellas are unacceptable life choices now, giant house spiders exist but only in September, and that salted parking lots are absolutely not weird at all. Find her on Instagram  and Facebook  for all the kid-friendly places in and around Gig Harbor.